My Blog
Posts for: December, 2011
By Michael C Scheske, DDS, PC
December 11, 2011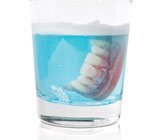 Cleaning dentures is an important part of wearing them. However, did you know that recent research has revealed a link between denture hygiene and overall health? The evidence shows that oral bacteria have been implicated in chronic obstructive pulmonary (lung) disease, bacterial endocarditis ("endo" – inside; "card" – heart), generalized infections of the respiratory tract and other systemic diseases. While it is never our intent to frighten you, we feel it is important that we share some important tips on maintaining and caring for your dentures so that your oral health does not negatively impact your general health.
Our first tip focuses on fit, as denture slippage is an experience that anyone who wears dentures dreads. So if your dentures seem to slip or you have started increasing the amount of adhesive you are using to achieve the same level of denture retention that you had when first fitted, you need to make an appointment with us soon. Otherwise, an ill-fitting denture can cause discomfort, embarrassment and contribute to other oral health issues.
Next, we must focus on cleaning your dentures. It is critical that you clean your dentures daily. However, you should never use harmful or abrasive cleansers. Nor should you ever place your dentures into boiling water! The best method for cleaning is to soak them daily in a non-abrasive denture cleaner. And when you remove them, gently brush them with a soft-bristled toothbrush.
Our last tip concerns how long you wear your dentures each day. Even if your dentures are extremely comfortable — for example, you forget they are in — you should not wear them 24 hours a day. Why? Because you will develop a chronic yeast infection called, "denture stomatitis" due to stagnation that develops under dentures when the lubricating and antibacterial effects of saliva are impeded. Unfortunately, the constant pressure on the gum tissues caused by wearing dentures can accelerate jawbone loss over time. Give your mouth and tissues a rest by sleeping without your dentures in your mouth.
To learn more tips, continue reading the Dear Doctor magazine article "Top Ten Tips For Denture Care & Maintenance." Or you can contact us today to schedule an appointment to discuss your questions.
By Michael C Scheske, DDS, PC
December 04, 2011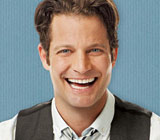 Design expert and television celebrity Nate Berkus has definite ideas about how to live. In a recent interview, he explained his ideas on design. He also talked about health, and how he keeps his teeth and mouth healthy.
From an initial design makeover that he did eight years ago on the Oprah Winfrey Show, Berkus has gone on to do 127 such makeovers. He was such a success that he now hosts his own daily talk show. He has also developed a line of home products for the Home Shopping Network and has his own design firm, Nate Berkus Associates. His clients include well-known restaurants and hotels as well as private homes. He has written articles for O Magazine and authored a book on the subject of transforming your home into a place you love.
"I realized many years ago that I wasn't going on Oprah to pick sofa colors and paint chips. I was there to lift people up through the way they live," he says. His secret to design success is to "go with what you love." He says, "Don't worry about mixing metals, eras or styles. If you love each item, you'll find a way to make it work."
His common sense practical attitude continues when it comes to dental health. Berkus is blessed with a healthy mouth and teeth. He doesn't feel anxious when visiting the dentist because he usually has a good report. He has not needed orthodontics or cosmetic dentistry. He thanks his childhood dentist for giving him fluoride treatments and sealants, and for teaching him healthy dental hygiene habits.
Berkus brushes his teeth twice or even three times a day, with a manual or electric toothbrush — depending on whether he is at home or traveling. He also follows his dentist's advice about flossing: "Floss the ones you want to keep!" He says that he tried tooth whitening once, but he felt that the whiteness was "too white." Now he simply works to maintain his natural tooth color and smile.
Contact us today to schedule an appointment to discuss your questions about maintaining healthy teeth. You can also learn more by reading the Dear Doctor magazine article "Nate Berkus, Helping Others Love the Way They Live."