My Blog
Posts for: March, 2012
By Michael C Scheske, DDS, PC
March 18, 2012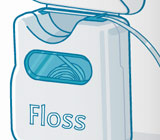 Dental professionals agree that effective removal of plaque, the film of bacteria (also called a biofilm) that gathers on everyone's teeth, is the key to good dental health. Daily brushing and flossing are the usual recommendation for plaque removal. It is important to ask us about effective brushing and flossing. At your next appointment, ask us for a demonstration.
Effective brushing removes plaque from the easily accessed surfaces of the teeth. To remove plaque from between the teeth, you must floss.
Some people find it awkward to hold the floss with their fingers as they move it around their teeth. One technique for flossing, suggested by a dentist in Dear Doctor magazine, may make it easier than more traditional methods, although it does take a little practice.
Preparation
This method requires tearing off a 10 to 12 inch length of floss and tying it to form a circle big enough for your fingers, but not your thumbs, to fit within it. The circle should be knotted with a double knot.
To Clean Teeth and Gums
Keep the floss taut at all times, with about and inch or less between your thumb and index fingers for your upper teeth, or index fingers only for your lower teeth. Curve the floss around each tooth and gently move it up and down until you hear a squeaky clean sound. Extend the downward movement of the floss to just below the surface of the gum, without being too harsh and causing injury. As you move from tooth to tooth, move around the floss circle so that each tooth gets a clean section of floss.
Upper Teeth
Place all your fingers in the ring, with the floss over your left thumb and right index finger to floss your upper left teeth, and over your right thumb and left index finger to do the other side.
Lower Teeth
Use both index fingers to floss all your lower teeth.
You may only need to floss once a day before or after brushing to keep your gums health and ward off periodontal (gum) disease. Your dentist will guide you as to how often you may need to floss your teeth. Try this technique and see how it works for you.
Contact us today to schedule an appointment to discuss your questions about flossing techniques. You can also learn more by reading the Dear Doctor magazine article "Flossing — A Different Approach."
By Michael C Scheske, DDS, PC
March 03, 2012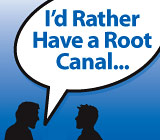 Hearing the news that you need a root canal often causes anxiety for most people given all the bad press this procedure has received (e.g., "I'd rather have a root canal than..."). However, the truth is that root canal treatment relieves pain; it doesn't cause it. And it is typically highly successful. The real pain occurs for most people when decay is left untreated or the nerve in a tooth under a very large filling becomes infected and dies.
For these reasons, we have put together the following list of questions you should consider asking prior to having a root canal or endodontic ("endo" – inside: "dontic" – tooth) treatment.
Am I a good candidate for root canal treatment?
Does it hurt to have a root canal?
What can I expect if I do not have a root canal treatment?
Are there any other treatment options for me given my situation? If so, what are they?
Do you do root canal treatment or should I see a specialist?
How long will the entire process take from my first appointment until my root canal treatment has healed?
Will the pain I am in immediately subside after a root canal or will it take some time?
Will I need or receive any type of sedation while having the treatment?
Are there any risks associated with root canal treatment? If so, what are they?
How long can I expect my natural tooth to last after root canal treatment?
What could happen to cause a root canal to require a second treatment?
How much will my root canal cost?
Will my insurance cover all or a portion of the cost?
Will the tooth be as strong after root canal treatment, or will it need a crown?
Will there be any special maintenance required on an ongoing basis after I have a root canal?
To learn more about root canals, continue reading the Dear Doctor article, "I'd Rather Have A Root Canal." Or if you feel you may need a root canal or other dental procedure, contact us today to schedule a consultation.