My Blog
Posts for: June, 2012
By Michael C Scheske, DDS, PC
June 16, 2012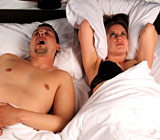 Nearly everyone is familiar with snoring, having either been awakened by a snoring, sleeping partner or by snoring so loudly that you wake yourself up. As if the sounds emanating from snoring weren't bad enough, snoring is no laughing matter and should never be ignored. And why? It can be a sign of other health issues.
Snoring occurs when the soft tissue structures of the upper airway (the back of your throat) collapse onto themselves, the tongue drops back and air is blocked in its movement through the mouth and nose into the lungs. These obstacles cause a vibration that produces the snoring sound. Snoring can also be caused by large tonsils, a long soft palate, a large tongue, the uvula (the tissue in the back of the throat that dangles like a punching bag), and/or fat deposits.
If snoring is more severe, it may denote a medical condition called Obstructive Sleep Apnea (OSA; or just "sleep apnea"). It occurs when the upper airway collapses causing significant airflow disruption or even no airflow whatsoever for 10 seconds or more and can leave you feeling tired, depressed, irritable, as well as cause memory loss and poor concentration. But have no fear; you are not alone, as millions of people worldwide have been diagnosed with this condition. There are also numerous treatment options that we can discuss with you — should you be diagnosed with this problem.
You can learn more about sleep apnea by reading the Dear Doctor article, "Snoring & Sleep Apnea." Or if you are ready for a thorough examination and to discuss your snoring, contact us today to schedule a consultation.
By Michael C Scheske, DDS, PC
June 01, 2012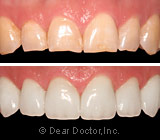 A veneer is a thin layer of dental ceramic tooth-colored restorative material, usually made of porcelain, which replaces some of the tooth's enamel and is physically bonded to it.
You might want to consider porcelain veneers:
If your teeth are severely discolored. (For best results we may recommend that your teeth be whitened before veneering them.)
If your teeth cannot be evenly whitened or matched by other means.
If your teeth are misshapen or worn, you can change their size or shape for optimum aesthetic appeal.
If you don't want to have your teeth prepared (drilled), prepless veneers may be an option to change your smile.
If you want as little natural tooth structure prepared as possible to improve your smile.
If you would like something temporary first to "test-drive" your new smile, then:
"Provisional veneers" allow you to try out your new smile and give us feedback before the final permanent veneers are placed.
If you want to improve your smile for just one tooth or even multiple teeth.
If you want long-lasting restorations — veneers can last from seven to twenty years or more.
And the top reason is:
Porcelain laminate veneers are among the most aesthetic ways to create a more beautiful, yet normal, looking smile.
Tell us what you want to change about your current smile, and we can tell you whether veneers are right for you. Contact us today to schedule an appointment or to discuss your questions about cosmetic dentistry. You can learn more by reading about porcelain veneers in Dear Doctor magazine.