My Blog
Posts for: November, 2012
By Michael C Scheske, DDS, PC
November 26, 2012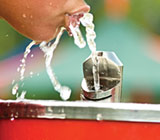 Guidelines regarding the concentration of fluoride in water have recently been changed by the US Government's Department of Health and Human Services (HHS) and the Environmental Protection Agency (EPA). These agencies recommended a reduction of fluoride in water supplies to 0.7mg/L, modifying the original recommendations provided in 1962 by the US Public Health Service.
What is fluoride, and why add it to water supplies?
Fluoride is a chemical form of fluorine, a naturally occurring element. For decades, scientists have carried out studies on the effects of fluoride in water, and they have proved that fluoride strengthens tooth surfaces and makes them resistant to decay. A fluoride concentration of about one milligram per liter (1 mg/L), or 1 part per million (1ppm), in the water supply is associated with substantially fewer cavities. This concentration of fluoride (equivalent to a grain of salt in a gallon of water) has been found to have no negative health effects.
The Center for Disease Control (CDC) says that fluoridated water is one of the ten most effective public health measures of the 20th Century. The optimal amount of fluoride necessary to make teeth resistant to decay turns out to be between 0.7 and 1.20 milligrams per liter (mg/L). A certain amount of fluoride occurs naturally in water supplies, and communities have added fluoride to bring the amount up to the optimal recommendations.
How does fluoride you drink get into your teeth?
The fluoride you drink in your water is deposited in your bones. Bone is an active living substance that is constantly broken down and rebuilt as a normal body process. As this happens the fluoride is released into the blood, from which it can enter the saliva and act on the tooth surface.
What about fluoride from other sources?
Americans now have access to many sources of fluoride in addition to the water they drink. These include foods, beverages and toothpaste. As a result, dentists have begun to notice an increased prevalence of a condition known as Dental Fluorosis.
What is Dental Fluorosis?
Dental Fluorosis can occur when teeth, particularly in children, receive too much fluoride. This condition is a mottling or uneven staining of the tooth surface enamel. There may be small white spots or extensive brownish discolorations. The mottled enamel is still resistant to decay, but it may be unattractive in appearance.
What is the idea behind the new guidelines?
With the new guidelines, fluoride is kept at the lower end of the scale of the optimal concentration for strengthening teeth against decay. At this end, there is room to add consumption of fluoride from other sources such as foods or toothpaste. In short, it is the best of both worlds.
Contact us today to schedule an appointment to discuss your questions about fluoride. You can learn more by reading the Dear Doctor magazine articles "Fluoride & Fluoridation in Dentistry" and "New Fluoride Recommendations."
By Michael C Scheske, DDS, PC
November 08, 2012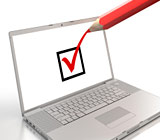 When dentists talk to patients, they often use specialized vocabulary referring to various dental conditions. Do you understand what they mean when they use these words — or are you wondering what they are talking about?
Here's your chance to test your knowledge of ten words that have a particular meaning in the context of dentistry. If you already know them, congratulations! If you don't, here's your chance to learn what these words mean in the dental world.
Enamel
In dentistry, enamel is the hard outer coating of your teeth. It is the hardest substance produced by living animals. It is a non-living, mineralized, and composed of a crystalline form of calcium and phosphate.
Dentin
The dentin is the layer of a tooth that is just beneath the enamel. It is living tissue similar to bone tissue.
Pulp
When dentists speak of pulp, we mean the tissues in the central chamber of a tooth (the root canal) that nourish the dentin layer and contain the nerves of the tooth.
Bruxism
Many people exert excess pressure on their teeth by clenching or grinding them. This is called bruxism, a habit that can be very damaging to teeth.
Occlusion
By this we mean how the upper and lower teeth are aligned, and how they fit together. This can also be referred to as your bite.
Dental caries
This term refers to tooth decay. Dental caries and periodontal disease (see below) are two of the most common diseases known to man. Today, these diseases are not only treatable, but they are also largely preventable.
Periodontal disease
A term for gum disease, this term comes from "peri," meaning around and "odont," meaning tooth. It is used to describe a process of inflammation and infection leading to the progressive loss of attachment between the fibers that connect the bone and gum tissues to the teeth. This can lead to loss of teeth and of the bone itself.
Erosion
When you consume acidic foods or drinks, the acids in your mouth react directly with minerals in the outer enamel of your teeth, causing chemical erosion. This is not the same as tooth decay, which is caused by acids released by bacterial film that forms on your teeth (see below).
Dental implant
A dental implant is a permanent replacement for a missing tooth. It replaces the root portion of the tooth and is most often composed of a titanium alloy. The titanium root fuses with the jaw bone, making the implant very stable. A crown is attached to the implant and can be crafted to match your natural teeth.
Plaque
Dental plaque is the whitish film of bacteria (a biofilm) that collects on your teeth. Your goal in daily brushing and flossing is to remove plaque.
Contact us today to schedule an appointment to discuss any questions you may have about your teeth and gums. You can also learn more by reading Dear Doctor magazine article "How and Why Teeth Wear."