My Blog
Posts for: January, 2013
By Michael C Scheske, DDS, PC
January 15, 2013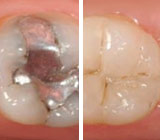 Cavities used to be nothing to smile about, but thanks to advances in technology, tooth-colored fillings have made repair of decayed teeth so natural, they're invisible. Now you no longer need to feel self-conscious about that unsightly flash of silver when you talk or laugh. While silver amalgam fillings were once the preferred option for tooth restoration filling materials, tooth-colored "composite resins" have gained popularity as a safe and effective alternative to treat new cavities or to replace old silver fillings.
A Better Alternative: Consumer demand for tooth-colored (metal free) restorations as well as the dental profession's desire to preserve as much natural tooth structure as possible has led to the development of special "adhesive" tooth-colored materials. Besides the aesthetic advantages over amalgam fillings, tooth-colored fillings require the removal of less tooth structure. While traditional silver fillings often crack or leak over time, composite resin fillings bond directly to tooth structure and actually reinforce and strengthen it while creating a natural looking smile.
The Choice is Yours: You can choose to replace unsightly silver fillings with tooth-colored ones to enhance their cosmetic appearance. Although concern has been expressed over the mercury content in older silver fillings, years of research cited by the American Dental Association has found that traditional amalgam fillings are safe. Unless you have cracks or damage to your current amalgam fillings or have other concerns regarding your dental health, replacing silver fillings is a matter of personal preference.
Cost: Although composite resin fillings may cost slightly more than silver fillings, they are very durable and may be more cost-effective in the long run.
Contact us today to schedule an appointment to discuss any questions you may have regarding tooth colored fillings. Read more about this topic in the Dear Doctor magazine article "The Natural Beauty of Tooth Colored Fillings."
By Michael C Scheske, DDS, PC
January 05, 2013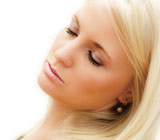 For some people, going to the dentist is just like any other routine healthcare visit that they manage without any qualms. For others, the experience can cause some trepidation or even anxiety. In fact, some people even contemplate canceling appointments and neglecting their oral healthcare. If the latter better describes how you or someone you know feels about going to the dentist — even for a routine exam and cleaning — then we have great news for you! We offer our patients oral sedation (sedation dentistry) that allows you to relax both your mind and body so that you can focus on feeling peaceful and at ease rather than anxious.
What is oral sedation?
Often referred to as "comfortable" or "relaxation" dentistry, sedation dentistry offers an approach to dentistry that includes gentle management of your anxiety by using an anti-anxiety prescription medication that simply dissolves away your anxiety. The medications are administered by mouth (orally) to help transition you from feeling nervous to a more comfortable state of being.
Is it easy to take?
Another reason oral sedation is so popular is because it does not require an injection (shot), so, if you are afraid of needles, you simply do not need to worry. Typically, a pill is first placed under your tongue (sub-lingually) where it dissolves and penetrates the skin going straight into your system and then the rest is simply swallowed. This method and the quick-acting sedation medication make relaxation both effective and safe.
Is it safe?
Pharmacists and health professionals measure medications' effectiveness by measuring their "therapeutic index." The larger the number is on this scale, the safer the drug. The oral sedation medications we use have the highest numbers possible on this scale and thus they are the least likely to cause any adverse (negative) reactions.
Want to learn more?
Contact us today to discuss your questions or to schedule an appointment. You can also learn more by reading the article "Oral Sedation Dentistry."