My Blog
Posts for: April, 2013
By Michael C Scheske, DDS, PC
April 20, 2013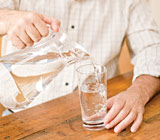 Dry mouth is a condition that many of us have experienced at some point in life. However, for some people it is a problem that can wreak havoc on their lives. This is why we have put together this list of questions we are most frequently asked about dry mouth.
What is dry mouth?
The medical term for dry mouth is "xerostomia" ("xero" – dry; "stomia" – mouth) and it affects millions of people in the US alone. It is caused by an insufficient flow of saliva, the liquid produced by the salivary glands. These glands are located in the inside cheeks of the mouth by the back top molars and in the floor (under the tongue) of the mouth. When functioning properly, they produce two to four pints of liquid every 24 hours.
Can drugs contribute to dry mouth?
Yes, both prescription and over-the-counter (OTC) drugs can cause dry mouth. This is one reason we so often find it in senior citizens, as they are typically on more medications than younger, healthier people.
What about diseases...can they cause dry mouth?
Certain systemic (general body) and autoimmune ("auto" – self; "immune" – resistance system) diseases, in which the body reacts against its own tissue, can cause dry mouth. Other diseases that can be the culprit include: diabetes, Parkinson's disease, cystic fibrosis, and AIDS (Acquired Immune Deficiency Syndrome). Radiation and chemotherapy used to treat head and neck cancers can inflame, damage or destroy the salivary glands—thus causing dry mouth.
Are there any remedies for dry mouth?
Yes! If medication is the primary cause of your dry mouth, there may be other, similar drugs that can be substituted that do not produce the same side effect. If you feel this describes your situation, discuss your concerns with the prescribing physician. Another option is taking an OTC or prescription saliva stimulant to temporarily relieve the dryness. Or, you can suck on a candy made with xylitol, a natural sugar substitute, four to five times a day. Xylitol has been shown to help stimulate the production of saliva with the added benefit of reducing the odds of getting cavities.
To learn more on this subject, continue reading the Dear Doctor magazine article "Dry Mouth." You can also contact us today with any questions or to schedule an appointment.
By Michael C Scheske, DDS, PC
April 04, 2013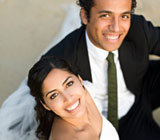 You're planning for one of the most important days in your life — your wedding — and you want everything to be perfect. You've chosen the outfits, the setting, the flowers... but there's one more thing to think about. Is your smile just as bright as your hopes for the future? Do you wish you could improve its appearance in time for the big date?
Here's good news: You can! Depending on how much advance notice you have — and what level of enhancement you need — your wedding day smile makeover can range from a thorough dental cleaning to a full-scale orthodontic treatment program. Let's look at a few options that can help you look and feel your best on this very special day.
Getting your teeth thoroughly, professionally cleaned can help remove some surface stains and tartar in just one appointment! Depending on the level of discoloration, and how long it's been since your last cleaning, more than one session may be needed. You have this basic and effective treatment done every three to six months anyway — right? So, be sure and schedule one before your wedding!
Sometimes your smile needs more than just routine maintenance. If that's the case, there are many other options to help it look its best. Tooth whitening is a safe, effective and economical way to lighten teeth by several shades. In-office treatments are quicker and more predictable, but dentist-supervised at-home bleaching kits are also an option if you have more time.
Porcelain veneers offer a more striking and more permanent solution for discolored teeth. To get the optimum "wow" effect from this treatment, figure from two to four office visits, and a total treatment time of at least three months.
Cosmetic bonding is a great way to hide those little chips in the front teeth, or discolored old fillings in back. Using the newest high-tech materials and a dose of old-fashioned artistry, we can restore the shiny, translucent look of your natural teeth — only with fewer imperfections. After a thorough evaluation, cosmetic bonding can often be performed as a one-visit procedure.
If your smile needs even more help, don't despair — there are still plenty of ways to improve it.
Teeth that are damaged or missing can be restored by crowns or bridgework. When the roots are intact, a crown replaces the visible part of the tooth above the gum line. If the tooth is missing, a bridge is used to secure a false tooth to two abutments on either side. Properly done, these restorations may last a decade or more, and generally require two or more visits.
Dental implants are a great way to restore missing teeth. They offer a permanent, natural-looking tooth replacement with numerous advantages over other restorative treatments. Achieving these results requires careful planning and takes a bit more time. If you need tooth restoration, be sure to ask us whether dental implants might be right for you.
If you would like more information about a wedding-day smile makeover, don't hesitate to contact us or schedule an appointment to discuss your treatment options. You can learn more in the Dear Doctor magazine article "Wedding Day Smiles."