My Blog
Posts for: July, 2013
By Michael C Scheske, DDS, PC
July 30, 2013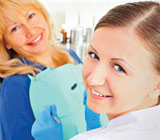 Once you receive your dental implants, you can have peace-of-mind in knowing that you have chosen a successful tooth replacement option, with long-term success rates of well over 95%. Your implant will look, feel and function just like the natural teeth that it has replaced.
However, despite the natural appearance, when you visit us for a regular cleaning, you may notice that we are using special instruments to clean around the implant. Cleaning around implants differs from the maintenance of your natural teeth for two reasons:
Your implants attach to the surrounding bone and gums in a very different way from your natural teeth.
The materials that comprise your implants are very different than those that make up your natural teeth.
Cleaning implants is just as important as cleaning natural teeth, because both depend on healthy surrounding tissues for support. Just as bacterial biofilm (plaque) collects on your natural teeth, it can also collect on your implant. That is why it is very important to brush and floss thoroughly on a daily basis at home. Without daily biofilm removal, the gums surrounding your implant can become infected, leading to bone loss and eventually loss of the implant.
Your regular dental cleanings will also play an important role in keeping dental implants infection-free, and we will select the right instruments for a professional cleaning. We will ensure that these instruments will not damage the crown, abutment, or the implant itself. If implants are scratched, they can attract and harbor bacteria. That's why the instruments we use, called scalers and curettes, are most often made of plastics and resins. Natural teeth don't scratch in the same way, and therefore metal instruments need to be used to clean them.
A number of power instruments have nylon or plastic sheaths or tips to minimize implant damage. They clean by using high-frequency vibration, which may be necessary if large quantities of debris have accumulated on your implant. We use these on a low power setting with a lot of water irrigation, and sometimes antibacterial solutions, to clean and flush material.
When it comes to keeping your implants infection-free, keep in mind that the most successful formula will be consistent oral hygiene at home mixed with regular dental cleanings.
If you would like more information about maintaining your dental implants, please contact us or schedule an appointment for a consultation. You can also learn more by reading the Dear Doctor magazine article "Dental Implant Maintenance."
By Michael C Scheske, DDS, PC
July 15, 2013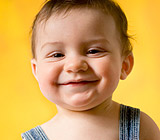 Did you know that the American Academy of Pediatric Dentistry recommends that all children have their first dental visit by the age of one? You might be surprised by this recommendation, since most children do not have many teeth at this age. However, it is important to start your child early on the path of good oral health!
Here are a few things you can expect from this first dental visit:
Developing a Rapport. Much of this visit will be dedicated to helping your child to feel at ease in our office. We'll spend time talking to your child, so that he or she is comfortable sitting in the dental chair and being examined.
Looking for Signs of Decay. During the comprehensive examination, we'll be looking for any signs of tooth decay and conducting a risk assessment for potential future cavities. Keep in mind that baby teeth serve as guides for your child's permanent teeth, so it is vital that you take proper care of them. You may not know it, but your child's permanent teeth are already forming beneath the gums, and if teeth are lost early, there is a higher risk for orthodontic problems later in life.
Reviewing Oral Hygiene Techniques. We would like this visit to be instructional and informative for you. Feel free to ask any questions that you have about caring for your child's teeth. In addition, we'll take some time during this visit to review with you the correct way to brush your child's teeth.
Talking about Oral Health Habits. We'll also spend a portion of this appointment doing a bit of fact gathering to ensure that you're not inadvertently doing anything that promotes decay, such as leaving a baby bottle with a sugary substance in your child's crib at night.
If you would like more information about the age one dental visit, please contact us or schedule an appointment for a consultation. You can also learn more by reading the Dear Doctor magazine article "The Age One Dental Visit."