My Blog
Posts for: October, 2013
By Michael C Scheske, DDS, PC
October 23, 2013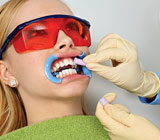 If you're looking to improve the appearance of your smile, tooth whitening treatments — whether done at home or in our office — are a popular option. Here are the answers to some questions that many people ask before they begin the process.
Q: Are commonly used tooth-whitening methods safe?
A: Yes — provided they are used as directed. A large body of research has shown that using the correct concentration of peroxide — the bleach that whitens teeth — for the proper amount of time is not known to cause any major health problems. However, there have been cases where poor-quality bleaching solutions and/or excessive usage have caused deterioration of tooth enamel and extreme gum sensitivity. Always follow our office's recommendation.
Q: Does this mean I have to have in-office treatments to whiten my teeth?
A: No. But you should come in for a thorough dental examination, with x-rays, before you begin whitening treatments. Why? Because if there is trouble with the underlying tooth structure, then whitening the tooth is like painting over rusty metal: It hides the symptom, but doesn't fix the problem. Abscesses and root-canal problems are just two of the underlying causes of tooth discoloration that should be treated before teeth are whitened.
Q: What are some different methods for whitening teeth, and how long do they take?
A: The fastest is in-office whitening treatments, using a strong bleaching solution and appropriate gum protection. Next comes the cost-effective method of at-home bleaching with custom-made flexible plastic trays (sometimes called nightguard vital bleaching.) If you're not in a hurry, over-the-counter (OTC) products can do the same thing — given enough time. One study comparing different whitening treatments found that a six-shade improvement in whitening was accomplished by three in-office treatments. A week was needed for custom-tray bleach applications, or 16 daily applications of OTC products, to achieve comparable results.
Q: Can any tooth be made bright white?
A: No. Every tooth has a maximum level of whiteness, beyond which it can't get any lighter. Furthermore, fillings, crowns and other dental restorations can't be lightened with bleach — another reason to talk to our office; we can help you achieve the best possible look for your particular smile.
Q: How long will my white teeth last?
A: It depends. No whitening method is permanent, but the typical result lasts for up to two years. To preserve that bright smile, you can take some positive steps: Avoid tobacco and beverages that stain, like red wine, tea and coffee; keep up with regular cleanings in our office; and, practice good oral hygiene at home. You can also have a touch-up treatment once or twice a year.
If you need more information about tooth whitening, or you're ready to start the process, please contact us or schedule an appointment for a consultation. You can also learn more about this topic by reading the Dear Doctor magazine article "Important Teeth Whitening Questions Answered."
By Michael C Scheske, DDS, PC
October 08, 2013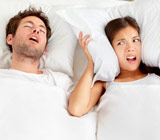 Sleep apnea, a form of sleep-related breathing disorders that is estimated to affect some 22 million Americans, is sometimes thought of as the "quiet culprit" lurking behind many other maladies. But ask anyone who sleeps alongside a sufferer, and you'll get a different response: It isn't quiet at all! Instead, it's often marked by loud snoring and scary episodes where breathing seems to stop. If you've ever worried that you or someone you care about may have this condition, here are five facts you should know.
1) Sleep apnea is a potentially deadly disease
For one thing, it leads to chronic fatigue that can make accidents far more likely — a special concern in potentially dangerous situations, like operating machinery or driving a vehicle. It also appears to be related to heart conditions such as high blood pressure, irregular heartbeat, coronary artery disease, and even stroke. Plus, it can lead to weight gain, depression and mood disorders.
2) People with sleep apnea may wake hundreds of times every night
These "micro-arousals" may occur 50 or more times per hour, and may keep a person from getting any relaxing sleep — even though they retain no memory of the episodes. That's why people who suffer from sleep apnea often go through their days on the verge of exhaustion. And they aren't the only ones who suffer: Their bed partners may also be kept up throughout the night, becoming anxious and irritable.
3) Persistent snoring can be a symptom of sleep apnea
Snoring is caused when breath being drawn into the lungs is obstructed by soft tissue structures in the upper airway. Most everyone snores sometimes… but chronic loud snoring is a common symptom of obstructive sleep apnea (OSA) — and the louder and more frequent the snoring, the greater the likelihood of OSA. To confirm a diagnosis of sleep apnea, a sleep study using special monitors may be conducted in a clinical setting, or an at-home test may be used.
4) Your dentist may be able to help diagnose and treat sleep apnea
What does dentistry have to do with sleep apnea? For one thing, sleep apnea is a disease that involves structures in the oral cavity — an area dentists are quite familiar with. Sometimes, fatigued folks who suffer from OSA begin snoring when they recline in the dental chair, showing their symptoms firsthand. But even if their patients don't fall asleep, dentists with proper training are recognized by the American Academy of Sleep Medicine (AASM) as being able to provide first line therapy for mild to moderate sleep disorders.
5) An oral appliance is a good step to try before more invasive treatments
If it's appropriate in your situation, your dentist can custom-fabricate an oral appliance that may alleviate sleep-related breathing disorders. This device, worn while you're sleeping, helps to maintain an open airway in the throat and to reduce breathing problems. With a success rate of around 80%, in many cases it's comparable to the more complex CPAP (continuous positive air pressure) machines, but people often find it easier to wear. Plus, it's a non-invasive treatment that can be explored before deciding on a more involved treatment, such as surgery.
If you would like more information about dentistry and sleep problems, please contact us or schedule an appointment for a consultation. You can also learn more by reading the Dear Doctor magazine articles "Sleep Disorders and Dentistry" and "Sleep Apnea FAQs."