My Blog
Posts for: March, 2014
By Michael C Scheske, DDS, PC
March 25, 2014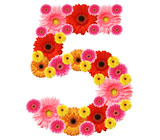 Young children are like sponges, soaking up patterns of behavior they will later apply in many circumstances throughout life. In this learning process, they often look to family members for guidance. Some good habits, like saying "please" and "thank you," can be taught verbally. Others are best learned by example.
Developing good habits early will benefit your children for a lifetime — especially where their health is concerned. Fortunately, it isn't hard to instill good oral hygiene behavior in a young child; for example, most all children are successfully taught to brush their teeth at an early age. What follows are some tips that might not be as obvious, but will help your children build healthy routines for maintaining optimum oral hygiene.
1) Teach your children how to check the cleanliness of their own teeth.
How? By running their tongue over the tooth surfaces! If the teeth feel nice and smooth, they're likely to be clean, too. Remember to give kids a soft brush, and tell them to use gentle strokes in brushing.
2) Avoid transferring your own oral bacteria to your children.
Children aren't born with decay-producing bacteria — they get them from others! That's why sharing baby's spoon or licking a pacifier clean aren't really good ideas. (Neither is pre-chewing a baby's food, despite what some birds and celebrities do. Trust us on this.)
3) Set an example of healthy eating habits for your children.
Follow common-sense guidelines (like those in www.choosemyplate.gov) for maintaining a balanced diet, eating plenty of vegetables and whole grains, drinking lots of water and getting moderate exercise.
4) Limit sugary treats to mealtimes, not snack times — if you allow them at all.
Oral bacteria utilize sugar for energy and when they metabolize it, they produce harmful acids. These acids attack the teeth and cause decay. The more sugar, the higher potential for stronger acids. Saliva helps neutralize these acids — but not if sugar is constantly present in the mouth. Try to limit sugary treats to mealtimes, and serve a healthier snack between meals.
5) Encourage your children to stop sucking thumbs and pacifiers by age 3.
Thumb sucking is a normal, comforting habit that may begin in the womb. Most kids stop on their own between ages 2 and 4. But long-term sucking on fingers or a pacifier can lead to tooth and jaw-development problems. We can help you find ways to gently encourage children to stop when it's time.
If you would like more information about instilling good oral hygiene habits in children, please contact us or schedule an appointment for a consultation. You can also learn more about this topic by reading the Dear Doctor magazine article "How to Help Your Child Develop the Best Habits for Oral Health."
By Michael C Scheske, DDS, PC
March 10, 2014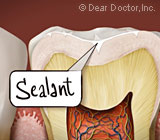 If you were to look closely at many of your teeth, you would notice deep, natural grooves in the enamel surface. Often referred to as "pits and fissures," these are some of the most difficult places in the mouth to keep clean. Toothbrush bristles simply can't reach deep enough into them to be effective; what's more, their warm, moist environment is the perfect breeding ground for bacterial growth. Consequently, pits and fissures are the most common location for tooth decay.
Children are especially susceptible — pits and fissures account for 43% of tooth decay in patients between the ages of six and seven. This is because when children's teeth erupt (first become visible in the mouth) the new enamel is more permeable and less resistant to decay than older teeth. Until the enamel matures, the risk for decay remains high.
Fortunately, in recent years there has been a decrease in the occurrence of tooth decay among children. Better hygiene practices, fluoride products and fluoridated drinking water, better nutrition, and regular dental visits are all factors in this improvement. One development in particular provides children an extra layer of protection — the use of sealants on the tooth surfaces.
Sealants are protective coatings applied to tooth surfaces, especially in pits and fissures that act as a barrier between bacteria and the immature enamel. Although the degree and extent of sealant use varies across the profession, many dentists recommend sealant application in children for all permanent molars and many primary molars soon after eruption.
The accessibility of regular dental care also plays a factor — those who have no or limited access (and thus are at high risk for tooth decay) may benefit from sealants on all of their back teeth, while children with regular care access (low risk) may need only a few. In fact, some dentists only recommend sealants in low-risk children when tooth decay is already present and after first removing as much decay as possible.
The goal, of course, is to prevent decay, or reduce its effects, in children. Sealants can help, but only when coupled with other measures — and a good habit of oral hygiene.
If you would like more information on sealants for children's teeth, please contact us or schedule an appointment for a consultation. You can also learn more about this topic by reading the Dear Doctor magazine article "Sealants for Children."