My Blog
Posts for: April, 2014
By Michael C Scheske, DDS, PC
April 24, 2014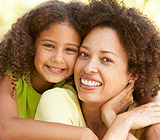 It is sometimes hard to believe all of the features and characteristics that we inherit from our parents. Whether you're tall, short, blue-eyed or blonde, you can usually attribute some of these features to your mother and father. Of course, the downside of genetics is that diseases and disorders are also linked to genes.
Well, you can add gum tissue to that list as well! Genetics actually determines whether you have what we call "thin" or "thick" gum tissue. How does this work? Well, the type of gum tissue you have relies heavily on the shape of your tooth, which indeed is genetically-coded. If you have a triangular tooth shape, you'll likely have thin gums. If you have a squarer tooth shape, you'll usually have thick gums.
So, what can you expect from each tissue type?
If you have a thin gum tissue type, you are more likely to have gum recession. Watch out for the following signs of gum recession:
Sensitivity to hot or cold, even without the presence of dental decay
If you have crowns on your teeth, you may see a dark gray line at the gum line from the metal casting beneath the crown
Small dark triangular spaces between teeth
On the other hand, if you have a thicker tissue type, your gums are more vulnerable to dental disease through a condition called "pocketing." This happens when bacterial plaque causes your tissue to become inflamed, lose its attachment to the teeth and develop a pocket. Pocketing can result in bone loss, and, in worst-case scenarios, tooth loss.
It's important to note that while we use these terms to categorize different tissue types for treatment decisions, your tissue may also fall somewhere in between the two varieties.
So, how can you prevent gum disease? Daily oral hygiene is the best way to ensure proper care of your gums, no matter what type you have. Be sure to brush twice daily (use a soft toothbrush) and floss regularly at night. Floss gently until you hear a squeak, but watch out for your gum line. And of course, continue to visit us two times a year, so that we can assess whether you are in danger of developing gum disease.
If you would like more information about genetics and gum disease, please contact us or schedule an appointment for a consultation. You can also learn more by reading the Dear Doctor magazine article "Genetics and Gum Tissue Types."
By Michael C Scheske, DDS, PC
April 09, 2014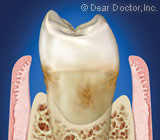 Periodontal gum disease is a relentless enemy to dental health that destroys gum tissue and the teeth's attachment to the jaw. As it ravages these tissues it often creates periodontal pockets, hidden spaces between the teeth and bone that fill with infectious bacteria capable of accelerating damage to teeth and gums.
The primary treatment goal for gum disease is to create an environment that is cleansable below the gum tissues, in order to remove as much bacterial plaque from the tooth, gum and root surfaces as possible. Periodontal pockets pose a challenge to this goal as they are extremely difficult to access using standard cleaning and root planing techniques the deeper they become. Cleaning and treating these deep pockets, however, is made easier with a procedure known as periodontal flap surgery.
This procedure is not a cure, but rather a way to access the interior of a periodontal pocket to remove infection and diseased tissue. In effect, we create an opening — like the hinged flap of a letter envelope — to gain entry into the affected pocket. Not only does this opening enable us to clean out infection within the pocket, but it can also facilitate cleaning the tooth's root surfaces.
It also provides an opening for us to insert grafting materials to regenerate lost bone and tissue. It's nearly impossible for this tissue regeneration to occur if bacterial infection and inflammation persist in the affected area. Periodontal flap surgery provides us the critical access we need to effectively remove these contaminants that stymie healthy growth.
This procedure is normally performed with local anesthesia and usually results in little bleeding and minimal post-operative effects. Once we have finished any procedures to clean the pocket and other affected tissues, or installed grafts for future bone and tissue growth, we would then seal the flap back against the tooth using sutures and gentle pressure to promote blood clotting around the edges. We might also install a moldable dressing that re-secures the edges of the flap to their proper position and prevents food debris from interfering with healing.
Periodontal flap surgery is the result of years of research to find the best techniques for treating gum disease. It's one of many weapons in our arsenal for winning the war against decay and gum disease, and helping you realize a healthier dental future.
If you would like more information on periodontal flap surgery, please contact us or schedule an appointment for a consultation. You can also learn more about this topic by reading the Dear Doctor magazine article "Periodontal Flap Surgery."