My Blog
Posts for: June, 2014
By Michael C Scheske, DDS, PC
June 17, 2014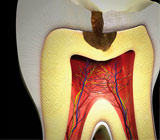 For years the main approach to treating tooth decay (or caries) could best be described as "drill and fill" — remove the decayed tooth material and fill the resulting cavity. But a new approach has come to prominence that addresses not only the results of decay, but seeks to identify and treat the underlying conditions that caused the decay in the first place, and may continue to infect other teeth.
This approach is known as Caries Management By Risk Assessment or CAMBRA. Rather than a "One Size Fits All" approach, CAMBRA individualizes treatment and prevention options by first assessing your own individual risk for tooth decay.
We base this assessment on what might be called the Caries Balance. On one side are factors that increase your risk of tooth decay, easily remembered by the acronym BAD: Bad bacteria that produces acid; Absence of healthy, functional saliva that neutralizes the effects of acid; and Dietary habits that are heavy with sugars, acids and between meal snacking. On the other side are protective factors that reduce your risk, known as SAFE — Saliva and sealants that protect the surfaces of teeth; Antimicrobials that help rid the mouth of bad bacteria; Fluoride, which strengthens teeth against de-mineralization caused by acid; and an Effective diet.
The assessment first involves a survey of questions about your hygiene habits, dental history and lifestyle: Do you brush twice and floss once daily? Do you live in a fluoridated area or use fluoride mouth rinse? Do you smoke? Have you had frequent cavities in the past? These and other questions, along with a complete dental exam and acid level testing, can give us a more accurate understanding of your risk and how best to incorporate treatment that reduces it even further.
Using CAMBRA, you and our dental team develop a true partnership that actually transforms your dental health from simply treating existing caries, to preventing future occurrences.
If you would like more information on the CAMBRA approach to caries prevention, please contact us or schedule an appointment for a consultation. You can also learn more about this topic by reading the Dear Doctor magazine article "Tooth Decay: How to assess your risk."
By Michael C Scheske, DDS, PC
June 02, 2014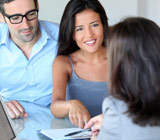 Advancements in dentistry have created an abundant source of treatments for restoring health and vitality to diseased teeth and gums. Unfortunately, not all of these treatment options may be in your financial reach. Fortunately, there are some affordable restorative options, as well as cost-effective treatments that could buy you time until you can afford a more permanent solution.
Your first step is a dental examination to evaluate your current oral health and possible future treatment needs. If you're not already showing symptoms of tooth decay or gum disease, we would evaluate your probable risk for future disease development. Risk assessment enables us to recommend a prevention strategy that is relatively inexpensive and may save you on more expensive dental procedures in the future.
If the examination reveals some current problems, it may be necessary to prioritize. Painful or abscessed teeth are a dental emergency and should be treated as soon as possible. Other conditions, like mild gum disease would be next in line; however, a word of warning: the longer you postpone treatment for many of these conditions, the greater the likelihood of subsequent bone and tooth loss, which will lead to more extensive — and expensive — treatment.
There are also new alternatives to traditional treatments that are less costly but still have many of the benefits. For example, less-costly glass — or resin-based fillers are becoming a popular option for restoring decayed or damaged teeth. Though not quite as durable as more expensive options, these new materials are life-like in appearance and work well on repair sites on non-biting surfaces.
You should also look to one other resource for managing the costs of dental care — us, your dental team. While we want your teeth and gums to be as healthy as possible, we also understand "wallet" issues. We can work with you on financial matters to ensure you're getting the effective care you need, including payment plans for more expensive treatment processes, working with your dental insurance plan, and recommending affordable treatment options.
The key is to develop a long-term care plan targeted to your individual dental needs. Knowing where we need to go — and adapting treatment strategies that match your resources — will help you get the best dental care you can afford.
If you would like more information on dental care treatment options, please contact us or schedule an appointment for a consultation. You can also learn more about this topic by reading the Dear Doctor magazine article "Cost-Saving Treatment Alternatives."