My Blog
Posts for: July, 2014
By Michael C Scheske, DDS, PC
July 17, 2014
Not long ago, a certain Royal Baby made his first major public appearance. At a "crawl-about" in New Zealand, young Prince George (the 8-month-old son of Prince William and Kate Middleton) was formally introduced to the world, along with a group of adorable tots and their proud parents. The press was quick to note not only the future King of England's cute expressions and his determined crawling — but also the appearance of his first two tiny bottom teeth.
Congratulations, William and Kate — and now, it's time to think about the taking care of those royal baby teeth. In fact, before you know it, it will be time for the age one dental visit. Why is this so important? Essentially, because proper dental care in the early years helps to establish routines that will lead to a lifetime of good oral health.
It's a misconception to think that baby teeth aren't important because they will be shed after a few years. In fact, not only do they have a vital function in a child's ability to eat and speak properly — they also serve as guides for the proper development of the permanent teeth that will follow. So caring for a tot's primary teeth is just as important as it is for grown-up teeth.
What's the best way to do that? To prevent tooth decay, clean an infant's gums after each feeding with a soft cloth moistened with water — and don't let your baby go to sleep with a bottle in his or her mouth! When teeth appear, gently brush them with a soft-bristled toothbrush and a tiny dab of toothpaste. At around age two, your child can begin to learn how to brush — with your careful supervision and follow-up, of course.
Avoiding sugary and acidic drinks (including some fruit juices) is another excellent way to keep those tiny teeth healthy! If you do allow any sugar, limit it to mealtimes; this gives the saliva plenty of time to do its work of neutralizing the sugar and acid that can cause tooth decay.
And don't forget the first visit to the dentist, which should take place by age one! Even at that early age, we'll make sure your child (and you) feel comfortable in the dental office, and help you get started with the best oral hygiene practices. We will also check for signs of cavities, watch for developmental milestones, and screen for potential future problems.
If you have questions about caring for your young child's teeth, please contact us or schedule an appointment. For more information, see the Dear Doctor magazine articles "Top 10 Oral Health Tips For Children" and "Age One Dental Visit."
By Michael C Scheske, DDS, PC
July 02, 2014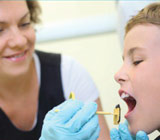 X-ray diagnostics have revolutionized our ability to detect early or hidden cavities, paving the way for better dental care. But x-ray exposure also increases health risks and requires careful usage, especially with children.
A form of invisible radiation, x-rays penetrate and pass through organic tissue at varying rates depending on the density of the tissue. Denser tissues such as teeth or bone allow less x-rays to pass through, resulting in a lighter image on exposed film; less dense tissues allow more, resulting in a darker image. This differentiation enables us to identify cavities between the teeth — which appear as dark areas on the lighter tooth image — more readily than sight observation or clinical examination at times.
But excessive exposure of living tissue to x-ray radiation can increase the risk of certain kinds of cancer. Children in particular are more sensitive than adults to radiation exposure because of their size and stage of development. Children also have more of their lifespan in which radiation exposure can manifest as cancer.
Because of these risks, we follow an operational principle known as ALARA, an acronym for "As Low As Reasonably Achievable." In other words, we limit both the amount and frequency of x-ray exposure to just what we need to obtain the information necessary for effective dental care. It's common, for example, for us to use bitewing radiographs, so named for the tab that attaches the exposable film to a stem the patient bites down on while being x-rayed. Because we only take between two and four per session, we greatly limit the patient's exposure to x-rays.
Recent advances in high-speed film and digital equipment have also significantly reduced x-ray exposure levels. The average child today is exposed to just 2-4 microsieverts during an x-ray session — much less than the 10 microsieverts of background radiation we all are exposed to in the natural environment every day.
Regardless of the relative safety of modern radiography, we do understand your concerns for your child's health. We're more than happy to discuss these risks and how they can be minimized while achieving maximum benefits for optimum dental health. Our aim is to provide your child with the highest care possible at the lowest risk to their health.
If you would like more information on the use of x-rays in dentistry, please contact us or schedule an appointment for a consultation. You can also learn more about this topic by reading the Dear Doctor magazine article "X-Ray Safety for Children."