My Blog
Posts for: September, 2014
By Michael C Scheske, DDS, PC
September 18, 2014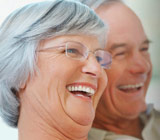 While dental implants are considered the gold standard for tooth replacement, removable dentures are still a viable choice, especially for patients with edentulism (complete tooth loss). Removable dentures have also undergone considerable advancement to improve their function, appearance and longevity.
But even with these advancements, dentures still require a fair amount of skill, experience and — of utmost importance — a sense of art. If you're considering this option, long-term success depends on a careful process of construction, fit adjustment and regular checkups to maintain that fit.
Our first step is to determine exact tooth placement on each denture. Using facial features (or photos before tooth loss) we establish placement landmarks so that corresponding upper and lower teeth align properly. We also consider tooth size, their orientation in relation to the lip, and the needed space to leave between the upper and lower teeth when they are at rest. We make these determinations based on accepted standards of beauty, but also taking into account your particular comfort level with any features that might alter your appearance.
The denture's gums must also look realistic when you smile, especially if your upper lip rises above the teeth to expose more gum tissue. We also want to match the color and texture of your natural gums, as well as incorporate palatal rugae, the little ridges behind the upper front teeth that aid with speech and chewing food.
When we first place the new dentures in your mouth, we may need to adjust them for balance between the upper and lower sets when they come together. An imbalanced fit could have an adverse effect on your ability to bite, chew and speak normally.
Your dentures should have a good, comfortable fit. Over time, however, you will encounter some degree of bone loss because you no longer have your natural teeth to stimulate bone growth and absorb the forces created during function when your teeth contact. This and other factors may cause your dentures to become loose and uncomfortable to wear. For that reason, it's important for you to visit us regularly to maintain that good fit and check the health of underlying tissues and bone.
Careful planning and denture construction help ensure your new dentures successfully restore form and function to your mouth. Regular monitoring will also ensure they continue to serve you well for as long as possible.
If you would like more information on removable dentures, please contact us or schedule an appointment for a consultation. You can also learn more about this topic by reading the Dear Doctor magazine article "Removable Full Dentures."
By Michael C Scheske, DDS, PC
September 02, 2014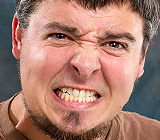 You may not realize it, but the simple act of eating can generate a tremendous amount of force on teeth and jaws. Fortunately, your teeth can absorb much of this biting force — but within limits. If the force exceeds normal limits on a continual basis, you may begin to notice aching teeth or sore jaws, and we may begin to notice unusual tooth wear during your dental checkups.
The most common cause for this is a chronic habit of grinding or clenching the teeth, also known as bruxism. It can manifest itself by teeth grinding against each other, teeth pressing against soft tissue (as with thumb-sucking) or biting or chewing on hard objects such as pencils or nails. We commonly see bruxism with patients who are experiencing excessive stress, sleep-related problems or as a result of lifestyle habits such as smoking or excessive alcohol consumption. You may not even be consciously aware of it as in the case of bruxism that occurs while you sleep, but your sore jaws in the morning (as well as your sleeping partner's complaints of noise) may be evidence of it.
Treatment involves a two-part approach. First, we want to relieve the pain symptoms and stop the damage. To relieve pain we'll often prescribe mild, anti-inflammatory or muscle-relaxant drugs, or perhaps medication to help you sleep better. We may also design a bite guard for wear on your upper teeth at night: the lower teeth will tend to glide or skate on the wear-resistant plastic and prevents them from placing excessive forces on your teeth.
The other part is to address the underlying cause for long-term results. If the habit arises from severe stress or other lifestyle issues, we may recommend biofeedback therapy or psychotherapy to improve your coping mechanisms. If an abnormality like a bad bite (malocclusion) is an underlying factor, we may recommend a minor bite adjustment by reshaping the teeth to lessen the bite impact.
The right course of action depends on a thorough dental examination to determine the exact nature of your clenching or grinding habit. From there we can discuss your options on how to relieve the soreness and pain, as well as prevent problems in the future.
If you would like more information on bruxism and its effects, please contact us or schedule an appointment for a consultation. You can also learn more about this topic by reading the Dear Doctor magazine article "Stress & Tooth Habits."