My Blog
Posts for: January, 2015
By Michael C Scheske, DDS, PC
January 30, 2015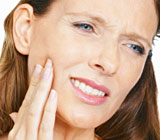 When treating Temporomandibular (jaw joint) Disorder (formerly known as Temporomandibular Joint Disorder, TMJ), we feel we have two equally important challenges facing us. First, we must start your treatment by relieving the symptoms of pain and discomfort. We typically accomplish this with heat, mild pain medications, a diet of soft foods, and some simple jaw exercises. Once we have begun to relieve your pain, our second critical objective is to identify and remedy what is causing the pain. It could be the result of an injury or trauma to the jaws and/or teeth or it could be due to a bite issue or a filling or crown that is too high and thus causing a misaligned bite. There are many other reasons, so it is first necessary to obtain a thorough medical history and conduct a comprehensive evaluation so that we can properly diagnose and treat the TMD condition and what is causing it.
Next to stress resulting in clenching and grinding habits, the four most common causes leading to TMD include:
Underlying dental conditions that are triggering muscle pain
Internal joint derangement (displaced or improperly positioned jaw joint)
Osteoarthritis (degenerative joint disease)
Synovitis — the painful inflammation of a synovial joint-lining membrane that is characterized by swelling, due to effusion (fluid collection)
If you or another family member suffer from chronic jaw pain, please let us know so that we can properly address your concerns and conduct a thorough examination. Or if you are in constant or severe pain, contact us as soon as possible to schedule an appointment. You can learn more about the signs, symptoms, and treatment options for TMD by reading "TMD — Understanding The Great Imposter."
By Michael C Scheske, DDS, PC
January 15, 2015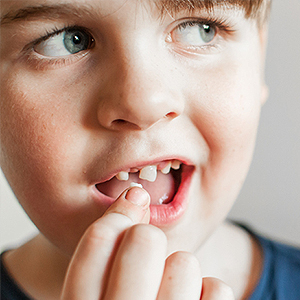 Ah, the baby teeth: those cute little pearl buttons that start to appear in a child's mouth at around 6 to 9 months of age. Like pacifiers and bedtime stories, they'll be gone before you know it — the last usually disappear by age 10-13. So if the dentist tells you that your young child needs a root canal, you might wonder why — isn't that tooth going to be lost anyway?
The answer is yes, it is — but while it's here, it has some important roles to play in your child's development. For one thing, baby teeth perform the same functions in kids as they do in adults: Namely, they enable us to chew, bite, and speak properly. The primary teeth also have a valuable social purpose: they allow us to smile properly. If a baby tooth is lost prematurely at age 6, the child may suffer detrimental effects for five years or more — and that's a long time for someone so young!
Even more important, baby teeth have a critical function in the developing mouth and jaw: Each one holds a space open for the permanent tooth that will eventually replace it — and it doesn't "let go" until the new tooth is ready to come in. If a primary (baby) tooth is lost too soon, other teeth adjacent to the opening may drift into the empty space. This often means that the permanent teeth may erupt (emerge above the gum line) in the wrong place — or sometimes, not at all.
The condition that occurs when teeth aren't in their proper positions is called malocclusion ("mal" – bad; "occlusion" – bite). It can cause problems with eating and speaking, and often results in a less-than-perfect-looking smile. It's the primary reason why kids get orthodontic treatment — which can be expensive and time-consuming. So it makes sense to try and save baby teeth whenever possible.
Procedures like a root canal — or the similar but less-invasive pulpotomy — are often effective at preserving a baby tooth that would otherwise be lost. But if it isn't possible to save the tooth, an appliance called a space maintainer may help. This is a small metal appliance that is attached to one tooth; its purpose is to keep a space open where the permanent tooth can come in.
If your child is facing the premature loss of a primary tooth, we will be sure to discuss all the options with you. It may turn out that preserving the tooth is the most cost-effective alternative in the long run. If you have questions about your child's baby teeth, please contact us or schedule an appointment for a consultation.