My Blog
Posts for: July, 2015
By Michael C Scheske, DDS, PC
July 24, 2015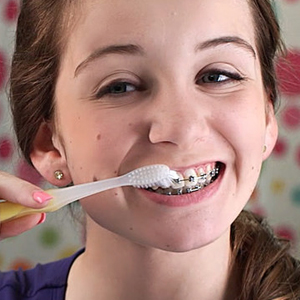 While braces are a tried and true method for achieving a more attractive smile, they may also give rise to problems with dental disease. This is because their hardware — the brackets and bands that serve as tracks for the tensioning wires — make it more difficult to access the tooth and gum surfaces to clean away plaque. This thin film of food remnant may then become a haven for bacteria that cause gum disease or tooth decay.
One of the more common conditions to occur while wearing braces is gingivitis. This is an initial inflammation of the gum tissues caused by bacterial plaque that hasn't been removed by brushing or flossing. As the inflammation grows unchecked, the infection could advance deeper into the tissues to become a more serious form of gum disease that threatens the survival of affected teeth.
Difficult as it may be for those wearing braces, the best way to avoid gingivitis is through more thorough oral hygiene practices. Fortunately, there are many hygiene products that can help you get around many of the access difficulties posed by braces. Smaller toothbrushes known as interproximal brushes and floss threaders, small aids that thread dental floss under braces wires, can access the spaces between teeth more readily than conventional brushes or floss. Water flossers (which use water under pressure to remove plaque between teeth) and motorized toothbrushes can further increase efficiency. We can also reduce bacterial growth in the mouth if need be with prescription-strength antibacterial mouthrinses.
If, however, gingivitis or gum overgrowth (another common occurrence during orthodontic treatment) continues to be a problem, we may need to take other actions including surgery. In extreme cases, the braces may need to be removed to adequately treat the gums and allow them time to heal before proceeding with orthodontics.
Extra care with daily hygiene and regular dental checkups and cleanings in addition to your orthodontic visits will help keep gum problems at bay while you're wearing braces. Taking this extra care will stop or minimize the effect of disease as you continue on to the ultimate goal of your orthodontic treatment — a more beautiful smile.
If you would like more information on dental care during orthodontic treatment, please contact us or schedule an appointment for a consultation.
By Michael C Scheske, DDS, PC
July 09, 2015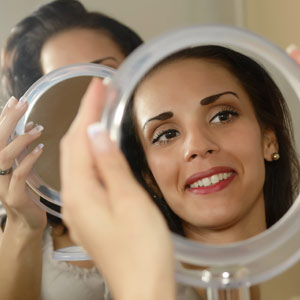 Achieving a more attractive smile is often a big investment. And, like other big investments, it's always advantageous to have the opportunity to "try it out" beforehand — especially something as visible and public as your smile.
We've come a long way in giving people ways to preview their smiles before the permanent restoration is in place. Computer imaging is one of the more effective ways of doing this. But what if you could actually see for yourself in a mirror rather than on a computer monitor or printed page what your new smile will look like? Now you can with a "trial smile."
To create a trial smile, we temporarily apply composite resin, a tooth-colored dental material, directly to your teeth. We can shape and sculpt the resin to mimic the effects of veneers, crowns or other dental work proposed to create your new smile. Not only will you be able to see your smile as it will appear, you'll also be able to get a sense of the texture and depth of the new dental work, something you can't quite capture with two-dimensional computer imaging. And while you won't be able to wear the trial smile home, we can certainly take photos for you to show friends and family for their opinion.
Trial smiles are also beneficial in helping us plan your smile makeover. By viewing how you interact with your new look — facial expressions, speech and, of course, smiling — we can fine tune the amount of tooth preparation necessary, as well as the color, shape and texture of the permanent restorations.
Incorporating a trial smile into your treatment will involve an additional expense, but only as a relatively small part of your overall treatment cost. But the benefit it can bring in helping us achieve a smile that's both attractive and satisfying to you is well worth the cost. "Trying out" your smile ahead of time can give you added peace of mind that your new look is just what you expected.
If you would like more information on trial smiles and other restoration previews, please contact us or schedule an appointment for a consultation. You can also learn more about this topic by reading the Dear Doctor magazine article "Testing Your Smile Makeover."