My Blog
Posts for: May, 2017
By Michael C Scheske, DDS, PC
May 25, 2017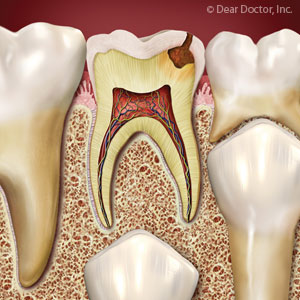 Primary (baby) teeth might not last long, but their impact can last a lifetime. Their first set of teeth not only allows young children to eat solid foods, but also guide permanent teeth to form and erupt in the proper position.
Unfortunately, primary teeth aren't immune to tooth decay. If the decay is extensive, the tooth may not last as long as it should. Its absence will increase the chances the permanent teeth won't come in correctly, which could create a poor bite (malocclusion) that's costly to correct.
If a primary tooth is already missing, we can try to prevent a malocclusion by installing a "space appliance." This keeps nearby teeth from drifting into the empty space intended for the permanent tooth. The best approach, though, is to try to save a primary tooth from premature loss.
We can often do this in much the same way as we would with a permanent tooth — by removing decayed material and filling the prepared space. We can also perform preventive applications like topical fluoride or sealants that strengthen or protect the tooth.
It becomes more complicated, though, if the pulp, the interior of the tooth, becomes decayed. The preferred treatment for this in a permanent adult tooth is a root canal treatment. But with a primary tooth we must also consider the permanent tooth forming below it in the jaw and its proximity to the primary tooth. We need to adapt our treatment for the least likely damage to the permanent tooth.
For example, it may be best to remove as much decayed structure as possible without entering the pulp and then apply an antibacterial agent to the area, a procedure known as an indirect pulp treatment. We might also remove only parts of the pulp, if we determine the rest of the pulp tissue appears healthy. We would then dress the wound and seal the tooth from further infection.
Whatever procedure we use will depend on the extent of decay. As we said before, our number one concern is the permanent tooth beneath the primary. By focusing on the health of both we can help make sure the permanent one comes in the right way.
If you would like more information on caring for children's primary teeth, please contact us or schedule an appointment for a consultation. You can also learn more about this topic by reading the Dear Doctor magazine article "Root Canal Treatment for Children's Teeth."
By Michael C Scheske, DDS, PC
May 10, 2017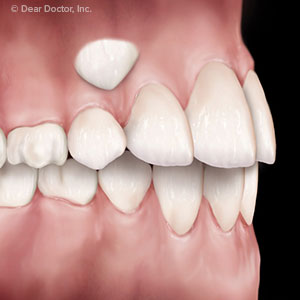 Although usually an orderly process, some permanent teeth don't come in as they should. In fact, they may not come in at all and remain hidden in the gum — a situation called impaction. This creates multiple problems for function, health and, in the case of front canines, appearance.
Canines are the longer and more pointed teeth on each side of the front-most incisors. They help tear and cut food during chewing, a function impaction eliminates. Besides a higher risk for developing abscesses (isolated areas of infection) and cysts, they can also put pressure on neighboring teeth and damage their roots or cause them to erupt abnormally.
Dentists often remove impacted wisdom and other back teeth to lessen these potential problems. Removing canines, though, has additional considerations: besides compromising ideal chewing function, missing canines often create an unattractive smile.
But before considering removal, there's another technique we might be able to use to save the canines and actually draw them down through the gums to their correct position. It's usually part of an overall orthodontic plan to correct a poor bite (malocclusion).
After pinpointing their exact position with x-rays or CT scanning, a surgeon surgically exposes the impacted canines' crowns through the gums. They then bond small brackets to the crowns and attach a small gold chain to each bracket. They fasten the other end of the chains to orthodontic hardware that exerts downward pressure on the impacted teeth. Over several months this pressure can help move the teeth into their normal positions.
Unfortunately, this technique isn't always advisable: one or more of the impacted teeth may be in a difficult position to attempt it. It's usually best in these situations to remove the teeth, usually sooner rather than later for the sake of neighboring teeth.
Fortunately, with today's advanced restorative techniques, we can eventually replace the canines with dental implants, although that's best undertaken after the patient enters adulthood. In the meantime, we can utilize orthodontic means to preserve the open space and provide a temporary restorative solution.
Whatever route taken, these teeth don't have to become a source of problems, especially for your appearance. Whether through orthodontics or restorative dentistry, impacted canines don't have to ruin your smile.
If you would like more information on various orthodontic procedures, please contact us or schedule an appointment for a consultation. You can also learn more about this topic by reading the Dear Doctor magazine article "Exposing Impacted Canines."