My Blog
Posts for: July, 2017
By Michael C Scheske, DDS, PC
July 17, 2017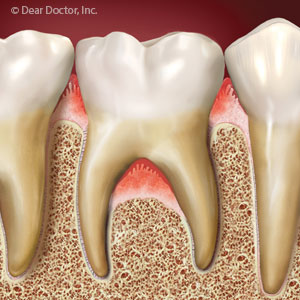 Many people learn they have periodontal (gum) disease after noticing gum swelling, soreness or bleeding. But what you can see or feel may be only the tip of the iceberg — the damage may extend much deeper.
Gum disease is caused mainly by dental plaque, a thin film of bacteria and food particles built up on teeth due to ineffective brushing and flossing. Infection of the visible gums is only the beginning — left untreated, it can advance well below the gum line and even infect supporting bone.
One critical concern in this regard is the areas where the roots of a tooth separate from each other, known as furcations. Here an infection known as a furcation invasion can cause the bone to weaken and dissolve.
This usually occurs in stages (or classes) we can detect through manual probing and/or with x-rays. In the earliest stage, Class I, we might only notice a slight pocket in the gums with no significant bone loss. In Class II, though, the pocket between the roots has become a horizontal opening of two or more millimeters, indicating definite bone loss with increased pocket depth getting "under" the crown of the tooth. Class III, the last and most serious stage, describes an opening we can probe under the crown all the way to the other side of the tooth; the bone loss now extends "through and through" the furcation.
The basic goal of gum disease treatment is to remove plaque and calculus (tartar) from all tooth and gum surfaces. But removing plaque below the gum line, especially "into" the furcations, can be challenging. We will need instruments called scalers to clean root surfaces, assisted sometimes by ultrasonic equipment to vibrate plaque loose. With furcations we may also need to employ surgery to aid gum or bone tissue regeneration or to make the area easier to access for future cleaning.
Of course, the best way to protect against furcation invasions is to prevent gum disease in the first place. Be sure to brush and floss daily and visit us for thorough dental cleanings and checkups at least every six months.
And don't delay contacting us if you see any signs of teeth or gum problems. The sooner we can identify gum disease, the more likely we'll be able to prevent it from doing serious damage to your gums, bone and teeth.
If you would like more information on treating gum disease, please contact us or schedule an appointment for a consultation. You can also learn more about this topic by reading the Dear Doctor magazine article "What are Furcations?"
By Michael C Scheske, DDS, PC
July 09, 2017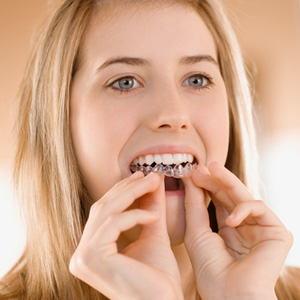 Do-it-yourself (DIY) whitening kits are a popular option for restoring a healthy shine to stained and dulled teeth. They're relatively safe and generally live up to their packaging claims.
But a home kit might not always be your best option. Here are 4 reasons why DIY whitening might not be right for you.
You're on the early side of your teen years. Tooth whitening at home is quite popular with teenagers. For older teens it doesn't really pose a dental risk as long as you use the product appropriately (more on that in a moment). However, the immature enamel of younger teens' permanent teeth is still developing and can be vulnerable to damage by whitening processes.
You don't follow instructions well. Not to say you have this particular character quirk — but if you do you may run into trouble with DIY whitening. Home kits are safe if you follow their instructions carefully. If you use them to excess as one 13-year old boy was reported to have done, you could severely (and permanently) erode your teeth's protective enamel.
Your teeth are in need of dental work. Tooth whitening can't fix everything that may be contributing to an unattractive smile. It's always better to have issues like dental disease or chipped teeth addressed first before whitening. And, if your tooth discoloration originates from inside your tooth, a whitening kit won't help — they're only designed for staining on the enamel's outside surface. You'll need a special dental procedure to whiten internal (or intrinsic) tooth staining.
You want to control the amount of brightness. Home kits don't have the level of fine-tuning that a clinical procedure can achieve. While the bleaching agent in a professional whitening solution is much stronger than a home kit, your dentist is trained in techniques that can vary the amount of bleaching, from a softer white to dazzling "Hollywood" bright. And clinical whitening usually takes fewer sessions and may last longer than a home kit.
If you're interested in teeth whitening, see your dentist for a dental examination first before purchasing a DIY kit. Even if you decide to do it yourself, your dentist can give you buying advice for whitening kits, as well as how-to tips.
If you would like more information on tooth whitening, please contact us or schedule an appointment for a consultation. You can also learn more about this topic by reading the Dear Doctor magazine article "Tooth Whitening Safety Tips."