My Blog
Posts for: August, 2017
By Michael C Scheske, DDS, PC
August 16, 2017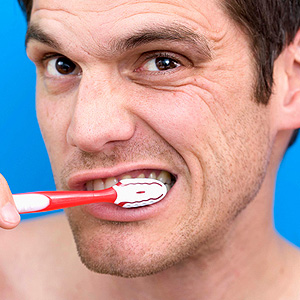 Treating advanced periodontal (gum) disease takes time. If you have this destructive disease, it wouldn't be uncommon for you to undergo several cleaning sessions to remove plaque from tooth and gum surfaces. This built-up film of bacteria and food particles is primarily responsible for triggering and fueling gum disease.
These cleaning sessions, which might also involve surgery and other advanced techniques to access deep pockets of infection, are necessary not only to heal your gums but to preserve the teeth they support. With these intense efforts, however, we can help rescue your teeth and return your reddened and swollen gums to a healthy, pink hue.
But what then — is your gum disease a thing of the past?
The hard reality is that once you've experienced gum disease your risk of another occurrence remains. From now on, you must remain vigilant and disciplined with your oral hygiene regimen to minimize the chances of another infection. You can't afford to slack in this area.
Besides daily brushing and flossing as often as your dentist directs, you should also visit your dentist for periodontal maintenance (PM) on a regular basis. For people who've experienced gum disease, PM visits are more than a routine teeth cleaning. For one, your dentist may recommend more than the typical two visits a year: depending on the severity of your disease or your genetic vulnerability, you may need to increase the frequency of maintenance appointments by visiting the dentist every two to three months.
Besides plaque and calculus (tartar) removal, these visits could include applications of topical antibiotics or other anti-bacterial substances to curb the growth of disease-causing bacteria in your mouth. You may also need to undergo surgical procedures to make particular areas prone to plaque buildup easier to clean.
The main point, though, is that although you've won your battle with gum disease, the war isn't over. But with your own daily hygiene maintenance coupled with your dentist's professional attention, you'll have a much better chance of avoiding a future infection.
If you would like more information on preventing and treating gum disease, please contact us or schedule an appointment for a consultation. You can also learn more about this topic by reading the Dear Doctor magazine article "Periodontal Cleanings."
By Michael C Scheske, DDS, PC
August 01, 2017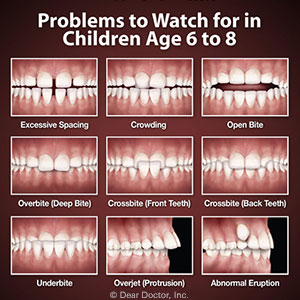 You may not always be able to tell if your child's bite isn't developing properly. Â That's why you should have them undergo an orthodontic evaluation around age 6 to uncover any emerging problems with tooth misalignment.
Still, there are some visible signs all's not well with their bite. As the primary (baby) teeth give way, the permanent teeth erupt sequentially around ages 6 to 8. As they come in, you should notice that each tooth fits uniformly next to each other without excessive gaps or, on the other end of the spectrum, not crowded together in crooked fashion. Upper teeth should also fit slightly over the lower teeth when the jaws are shut.
If their teeth appearance deviates from these norms, they may have a bite problem. Here are 4 abnormalities you should watch for.
Underbite or deep bite. As we mentioned, the front teeth should cover the lower teeth with the jaws shut. In an underbite, the reverse happens — the lower teeth are in front of the upper teeth. It's also a problem if the upper teeth cover the lower teeth too much (often referred to as "deeply").
Open bite. This occurs when there's a gap between the upper and lower front teeth while the jaws are shut together. One possible cause is late thumb sucking, which can put undue pressure on the front teeth and cause them to develop too far forward while forcing the bottom front teeth further backwards.
Crossbites. This kind of bite occurs when some of the teeth don't fit properly over their counterparts, while others do. Crossbites can occur anywhere in the mouth, for example the upper front teeth fitting behind the lower front teeth while the back teeth overlap normally, or the reverse (front normal, back abnormal).
Misalignments and Abnormal Eruptions. Sometimes upper teeth may align too far forward, a situation known as protrusion. Conversely, lower teeth (or the jaw itself) may come in too far back (retrusion). Because a primary tooth might be out of position or not lost in the proper sequence, a permanent tooth might noticeably erupt out of its proper position.
If you notice any of these situations with your child's teeth see your dentist or orthodontist soon for a full examination. If caught early, we may be able to take action that will lessen or even eliminate the problem.
If you would like more information on treating bite problems, please contact us or schedule an appointment for a consultation.