My Blog
Posts for: November, 2017
By Michael C Scheske, DDS, PC
November 22, 2017
In the fight against dental disease and other conditions your general dentist is your first line of defense for prevention strategies and treatment. Sometimes, however, your condition may require the services of a dental specialist to restore health to your mouth.
A good example of this is an advanced case of periodontal (gum) disease. While your dentist and hygienist are quite skilled at removing plaque and calculus, there may be extenuating circumstances that may benefit from the knowledge and expertise of a specialist. In the case of gum-related issues that would be a periodontist, a dentist who specializes in the diagnosis and treatment of diseases or disorders related to the gums and bone that support teeth.
There are a number of reasons why you may be referred to a periodontist regarding your gum health. Besides advanced stages of the disease (loose teeth, periodontal pocketing or bone loss) that require surgery or other invasive techniques you may have a particular form that requires advanced treatment, or a secondary condition, like pregnancy or diabetes, which could impact your periodontal condition. There may also be a need for a periodontist's consultation if you're preparing for cosmetic restoration, most notably dental implants, that could have a bearing on your gum and bone health.
As your primary oral health "gatekeeper," your general dentist is largely responsible for determining what you need to achieve optimal health. Likewise, your periodontist or other specialists for other problems will be equally committed to providing you the right care for your situation. Your general dentist and other specialists will work together to ensure that your condition will be cared for, and that you'll continue to enjoy the highest level of oral health possible.
If you would like more information on the role of periodontics and other dental specialties in oral health, please contact us or schedule an appointment for a consultation. You can also learn more about this topic by reading the Dear Doctor magazine article "Referral to a Dental Specialist."
By Michael C Scheske, DDS, PC
November 07, 2017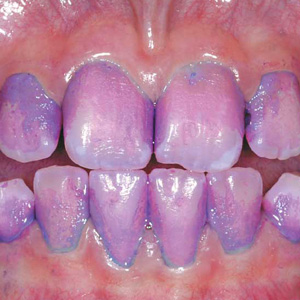 Brushing and flossing every day are important for preventing dental disease. The object is to remove as much bacterial plaque, the thin biofilm most responsible for disease, from your teeth and gums as possible.
But how do you know your hygiene efforts are that effective? You can of course do the "tongue test" â?? feel your teeth with your tongue after brushing and flossing and see if they feel smooth and "squeaky" clean. We can also give you a "report card" at your regular cleaning appointment. There is, however, a more precise way you can find out at home by using a plaque disclosing agent.
A plaque disclosing agent is a formulation that when applied to the teeth will temporarily dye any bacterial plaque present a distinct color. While dental hygienists occasionally apply them, they're also available over the counter for use at home. They're usually found in a solution, tablet or swab form in various flavors.
To use the product you first brush and floss, then swish the disclosing liquid around in your mouth for about 30 seconds before spitting it out (or chew the tablet or apply the swab as directed). The agent will react with any remaining plaque and dye it a bright color. There are even two-tone agents available that can differentiate between old and new plaque and dye them different colors.
Examining your teeth in a mirror will give you a good idea where you need to concentrate your attention when brushing and flossing. If, for example, you see dyed plaque more along the gum line and less in other places, then that's where you should focus your hygiene efforts.
While the dye will eventually wear off on its own, you should take the opportunity to brush and floss again to remove any remaining dyed plaque. Not only does this provide a more thorough cleaning at that moment, you'll also get a better sense of how "thoroughness" feels for future brushing and flossing.
It's always good to know how well you're doing with your dental hygiene efforts. A plaque disclosing agent can give you just the right feedback to help you improve.
If you would like more information on proper oral hygiene habits, please contact us or schedule an appointment for a consultation. You can also learn more about this topic by reading the Dear Doctor magazine article "Plaque Disclosing Agents."