My Blog
Posts for: September, 2020
By Michael C Scheske, DDS, PC
September 20, 2020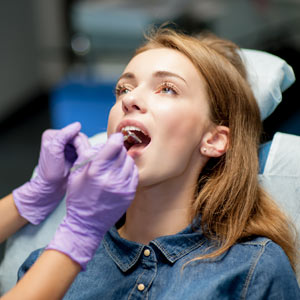 While periodontal (gum) disease could ruin your dental health, it doesn't have to. Dentists and periodontists (specialists in gums and other supporting tooth structures) have effective methods for stopping it, especially if the infection is diagnosed and treated in its earliest stages. With effective treatment, those swollen, reddened and bleeding gums can return to a healthy shade of pink.
But even if we stop the infection, you're not out of danger. If you've had at least one bout with gum disease, you're at higher risk for another infection. We will need to maintain ongoing vigilance to prevent another infection.
If you've recently undergone treatment for gum disease, here are 3 things you should do to keep your now healthy gums continually healthy.
Practice daily oral hygiene. Gum disease arises most often from dental plaque, a thin biofilm of disease-causing bacteria that builds up on tooth surfaces. It's important for everyone to remove this buildup with daily brushing and flossing, but it's even more so if you've already experienced gum disease. Practicing effective oral hygiene every day will reduce the presence of bacteria that could ignite a new infection.
See the dentist more frequently. The general rule for routine dental cleanings and checkups is twice a year. But you may need more frequent visits, post-gum disease. Depending on the severity of your disease, we may recommend you make return visits at two- to three-month intervals of time. These visits may also include heightened screenings to ensure another infection hasn't taken hold, as well as procedures to make it easier to clean certain tooth areas prone to plaque buildup.
Manage other health conditions. Gum disease's severity is often caused by the inflammatory response your body initiates to fight the infection, which then becomes chronic. This is similar to other conditions like diabetes, heart disease or rheumatoid arthritis: There's evidence inflammation elsewhere in the body could worsen a gum infection, and vice-versa. Managing other health conditions through medical care, medication and lifestyle changes could minimize the occurrence and severity of a future gum infection.
If you would like more information on remaining infection-free after gum disease, please contact us or schedule an appointment for a consultation. You can also learn more about this topic by reading the Dear Doctor magazine article "Periodontal Cleanings."
By Michael C Scheske, DDS, PC
September 10, 2020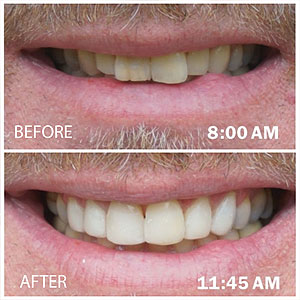 Orthodontics, veneers and other cosmetic dental techniques can turn a less than perfect smile into a beautiful one—but not always very quickly. For example, porcelain veneers can take weeks from planning to installation, including the meticulous work of an outside dental lab to produce veneers that look natural as well as beautiful.
But you may be able to take advantage of another approach, one that often takes no more than a couple of dental visits. Called direct veneers, it's actually a process of bonding and sculpting life-like composite materials to teeth that are heavily stained, chipped or that contain tiny crevices called "craze lines."
Unlike the similarly-named traditional method, direct veneers don't involve the creation of layered porcelain veneers fashioned by a dental lab. But this newer process is similar to the older one in that some of the enamel must be removed from the teeth in question to provide a suitable surface for the composite material to adhere. This alteration will be permanent, requiring a restorative covering on the treated teeth from then on.
Right before this preparation, though, a dentist typically makes an impression of the patient's mouth. This will be the basis for creating the procedural plan for the dental work, particularly a "trial smile" from similar composite material that can be applied to the patient's teeth before actual restoration work begins. This temporary application gives both patient and dentist an opportunity to visualize the final look, and make needed adjustments in color and shaping.
Once the work plan is finalized, the patient then returns for the actual restoration procedure. The dentist begins by applying and bonding the composite material to the prepared teeth. Then, using a drill and manual instruments, the dentist shapes and smooths the material into a tooth-like appearance that blends with other teeth. The procedure can take a few hours, but it can usually be completed during a single visit.
Although direct veneers may not last as long as porcelain veneers, the process is less costly and requires less time to complete. Direct veneers could be an economical solution for achieving a more attractive smile.
If you would like more information on direct veneers, please contact us or schedule an appointment for a consultation. You can also learn more about this topic with a firsthand patient account by reading the Dear Doctor magazine article "A New Smile With Direct Veneers."