My Blog
Posts for tag: dentures
By Michael C Scheske, DDS, PC
September 18, 2014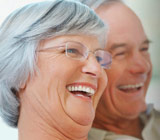 While dental implants are considered the gold standard for tooth replacement, removable dentures are still a viable choice, especially for patients with edentulism (complete tooth loss). Removable dentures have also undergone considerable advancement to improve their function, appearance and longevity.
But even with these advancements, dentures still require a fair amount of skill, experience and — of utmost importance — a sense of art. If you're considering this option, long-term success depends on a careful process of construction, fit adjustment and regular checkups to maintain that fit.
Our first step is to determine exact tooth placement on each denture. Using facial features (or photos before tooth loss) we establish placement landmarks so that corresponding upper and lower teeth align properly. We also consider tooth size, their orientation in relation to the lip, and the needed space to leave between the upper and lower teeth when they are at rest. We make these determinations based on accepted standards of beauty, but also taking into account your particular comfort level with any features that might alter your appearance.
The denture's gums must also look realistic when you smile, especially if your upper lip rises above the teeth to expose more gum tissue. We also want to match the color and texture of your natural gums, as well as incorporate palatal rugae, the little ridges behind the upper front teeth that aid with speech and chewing food.
When we first place the new dentures in your mouth, we may need to adjust them for balance between the upper and lower sets when they come together. An imbalanced fit could have an adverse effect on your ability to bite, chew and speak normally.
Your dentures should have a good, comfortable fit. Over time, however, you will encounter some degree of bone loss because you no longer have your natural teeth to stimulate bone growth and absorb the forces created during function when your teeth contact. This and other factors may cause your dentures to become loose and uncomfortable to wear. For that reason, it's important for you to visit us regularly to maintain that good fit and check the health of underlying tissues and bone.
Careful planning and denture construction help ensure your new dentures successfully restore form and function to your mouth. Regular monitoring will also ensure they continue to serve you well for as long as possible.
If you would like more information on removable dentures, please contact us or schedule an appointment for a consultation. You can also learn more about this topic by reading the Dear Doctor magazine article "Removable Full Dentures."
By Michael C Scheske, DDS, PC
March 18, 2013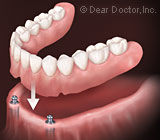 Think you already know all about dentures? Answer the following questions, and see whether your understanding of false teeth is more true than false.
True or False: About one-quarter of the U.S. population has none of their own teeth left by the age of 65.
Answer: True
The technical term for the complete loss of all permanent teeth is edentulism, and it's a big issue, affecting 26% of adults between 65 and 74 years of age. Without treatment, many individuals not only suffer a reduced quality of life, but also risk nutritional problems and systemic health disorders. Dentures are a reliable and affordable way to replace their missing teeth.
True or False: Tooth loss has nothing to do with bone loss.
Answer: False
Far from being a fixed, rigid substance, bone is actually growing and changing constantly. In order for it to stay healthy, bone needs constant stimulus. For the alveolar bones of the jaw, this stimulus comes from the teeth; when they are gone, the stimulus goes too, and the bone resorbs or melts away. The missing bone mass can cause changes in facial features, difficulties with eating, speech problems and other undesirable effects.
True or False: Once the teeth are gone, there is little that can be done to mitigate bone loss.
Answer: False
While a certain amount of bone loss is unavoidable, it can be minimized. The techniques of bone grafting may be used to create a "scaffold" on which the body can restore its own bone tissue. Bone loss can also be limited by retaining the roots of teeth that had previous root canal treatment, even when the crowns must be removed. Perhaps the best way to limit long-term bone loss is the use of dental implants, which restores function and prevents excessive resorption from tooth loss. When tooth loss is inevitable, a pre-planned transition to dentures offers the opportunity to retain as much bone as possible, and avoid future problems.
True or False: There are many options available to make wearing dentures a fully functional and comfortable experience.
Answer: True
Fabricating prosthetic teeth is a blend of science and art. Not only must the appearance of the teeth and gums be made to look natural, but the fit has to be exact and the bite must be balanced. After a little practice, most people subconsciously adapt to the slightly different muscular movements required when wearing dentures. For those few who have difficulty, hybrid forms of implant-supported dentures may offer an alternative. In all cases, developing a partnership of trust between a skilled clinician and an informed patient is the best way to ensure that the experience will be a success.
If you would like more information about dentures, please contact us or schedule an appointment for a consultation. You can also learn more about this topic by reading the Dear Doctor magazine article "Removable Full Dentures."
By Michael C Scheske, DDS, PC
December 11, 2011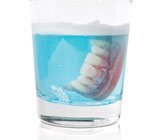 Cleaning dentures is an important part of wearing them. However, did you know that recent research has revealed a link between denture hygiene and overall health? The evidence shows that oral bacteria have been implicated in chronic obstructive pulmonary (lung) disease, bacterial endocarditis ("endo" – inside; "card" – heart), generalized infections of the respiratory tract and other systemic diseases. While it is never our intent to frighten you, we feel it is important that we share some important tips on maintaining and caring for your dentures so that your oral health does not negatively impact your general health.
Our first tip focuses on fit, as denture slippage is an experience that anyone who wears dentures dreads. So if your dentures seem to slip or you have started increasing the amount of adhesive you are using to achieve the same level of denture retention that you had when first fitted, you need to make an appointment with us soon. Otherwise, an ill-fitting denture can cause discomfort, embarrassment and contribute to other oral health issues.
Next, we must focus on cleaning your dentures. It is critical that you clean your dentures daily. However, you should never use harmful or abrasive cleansers. Nor should you ever place your dentures into boiling water! The best method for cleaning is to soak them daily in a non-abrasive denture cleaner. And when you remove them, gently brush them with a soft-bristled toothbrush.
Our last tip concerns how long you wear your dentures each day. Even if your dentures are extremely comfortable — for example, you forget they are in — you should not wear them 24 hours a day. Why? Because you will develop a chronic yeast infection called, "denture stomatitis" due to stagnation that develops under dentures when the lubricating and antibacterial effects of saliva are impeded. Unfortunately, the constant pressure on the gum tissues caused by wearing dentures can accelerate jawbone loss over time. Give your mouth and tissues a rest by sleeping without your dentures in your mouth.
To learn more tips, continue reading the Dear Doctor magazine article "Top Ten Tips For Denture Care & Maintenance." Or you can contact us today to schedule an appointment to discuss your questions.