My Blog
Posts for tag: fluoride
By Michael C Scheske, DDS, PC
January 28, 2021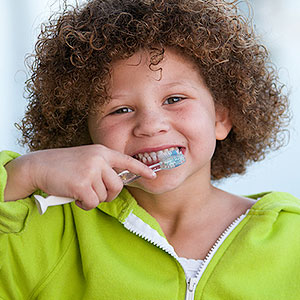 Fluoride is an important part of your child's dental development. But if children take in too much of this important mineral, they could experience enamel fluorosis, a condition in which teeth become discolored with dark streaking or mottling.
That's why it's important to keep fluoride levels within safe bounds, especially for children under the age of 9. To do that, here's a look at the most common sources for fluoride your child may take in and how you can moderate them.
Toothpaste. Fluoridated toothpaste is an effective way for your child to receive the benefits of fluoride. But to make sure they're not getting too much, apply only a smear of toothpaste to the brush for infants. When they get a little older you can increase that to a pea-sized amount on the end of the brush. You should also train your child not to swallow toothpaste.
Drinking water. Most water systems add tiny amounts of fluoride to drinking water. To find out how much your water provider adds visit "My Water's Fluoride" (//nccd.cdc.gov/doh_mwf/Default/Default.aspx) online. If it's more than the government's recommendation of 0.70 parts of fluoride per million parts of water, you may want ask your dentist if you should limit your child's consumption of fluoridated drinking water.
Infant formula. Many parents choose bottle-feeding their baby with infant formula rather than breastfeed. If you use the powdered form and mix it with tap water that's fluoridated, your baby could be ingesting more of the mineral. If breastfeeding isn't an option, try using the premixed formula, which normally contains lower levels of fluoride. If you use powdered formula, mix it with bottled water labeled "de-ionized," "purified," "demineralized" or "distilled."
It might seem like the better strategy for preventing fluorosis is to avoid fluoride altogether. But that can increase the risk of tooth decay, a far more destructive outcome for your child's teeth than the appearance problems caused by fluorosis. The better way is to consult with your dentist on keeping your child's intake within recognized limits to safely receive fluoride's benefits of stronger, healthier teeth.
If you would like more information on fluoride and your baby's dental health, please contact us or schedule an appointment for a consultation. You can also learn more about this topic by reading the Dear Doctor magazine article "Tooth Development and Infant Formula."
By Michael C Scheske, DDS, PC
November 30, 2018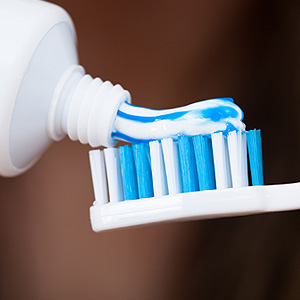 In the last half century, fluoride has become an effective weapon against tooth decay. The naturally occurring mineral helps strengthen enamel, the teeth's hard, protective cover.
Although it's safe for consumption overall, too much during early tooth development can lead to fluorosis, a brownish, mottled staining in enamel. To avoid it, a child's daily consumption of fluoride should optimally be kept at around 0.05-0.07 milligrams per kilogram of body weight, or an amount equal to one-tenth of a grain of salt per two pounds of weight.
The two main therapeutic fluoride sources have limits to help maintain this balance: utilities that fluoridate drinking water are required to add no more than 4 parts fluoride per million (ppm) of water; toothpaste manufacturers likewise only add a small amount of fluoride compared to clinical gels and pastes dentists apply to teeth for added decay protection.
But drinking water and toothpaste aren't the only sources of fluoride your child may encounter. Even if you have a non-fluoridated water supply, you should still keep a close watch on the following items that could contain fluoride, and discuss with us if you should take any action in regard to them.
Infant formula. The powdered form especially if mixed with fluoridated water can result in fluoride concentrations 100 to 200 times higher than breast or cow's milk. If there's a concern, use fluoride-free distilled or bottled spring water to mix formula.
Beverages. Many manufacturers use fluoridated water preparing a number of packaged beverages including sodas (two-thirds of those manufactured exceed .6 ppm), soft drinks and reconstituted fruit juices. You may need to limit your family's consumption of these kinds of beverages.
Certain foods. Processed foods like cereals, soups or containing fish or mechanically separated chicken can have high fluoride concentrations, especially if fluoridated water was used in their processing. When combined with other fluoride sources, their consumption could put children at higher risk for fluorosis.
Toothpaste. Although mentioned previously as a moderate fluoride source, you should still pay attention to how much your child uses. It doesn't take much: in fact, a full brush of toothpaste is too much, even for an adult. For an infant, you only need a smear on the end of the brush; as they grow older you can increase it but to no more than a pea-sized amount.
If you would like more information on fluoride and how it strengthens teeth, please contact us or schedule an appointment for a consultation. You can also learn more about this topic by reading the Dear Doctor magazine article "Fluoride & Fluoridation in Dentistry."
By Michael C Scheske, DDS, PC
November 26, 2012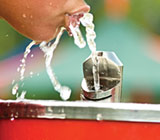 Guidelines regarding the concentration of fluoride in water have recently been changed by the US Government's Department of Health and Human Services (HHS) and the Environmental Protection Agency (EPA). These agencies recommended a reduction of fluoride in water supplies to 0.7mg/L, modifying the original recommendations provided in 1962 by the US Public Health Service.
What is fluoride, and why add it to water supplies?
Fluoride is a chemical form of fluorine, a naturally occurring element. For decades, scientists have carried out studies on the effects of fluoride in water, and they have proved that fluoride strengthens tooth surfaces and makes them resistant to decay. A fluoride concentration of about one milligram per liter (1 mg/L), or 1 part per million (1ppm), in the water supply is associated with substantially fewer cavities. This concentration of fluoride (equivalent to a grain of salt in a gallon of water) has been found to have no negative health effects.
The Center for Disease Control (CDC) says that fluoridated water is one of the ten most effective public health measures of the 20th Century. The optimal amount of fluoride necessary to make teeth resistant to decay turns out to be between 0.7 and 1.20 milligrams per liter (mg/L). A certain amount of fluoride occurs naturally in water supplies, and communities have added fluoride to bring the amount up to the optimal recommendations.
How does fluoride you drink get into your teeth?
The fluoride you drink in your water is deposited in your bones. Bone is an active living substance that is constantly broken down and rebuilt as a normal body process. As this happens the fluoride is released into the blood, from which it can enter the saliva and act on the tooth surface.
What about fluoride from other sources?
Americans now have access to many sources of fluoride in addition to the water they drink. These include foods, beverages and toothpaste. As a result, dentists have begun to notice an increased prevalence of a condition known as Dental Fluorosis.
What is Dental Fluorosis?
Dental Fluorosis can occur when teeth, particularly in children, receive too much fluoride. This condition is a mottling or uneven staining of the tooth surface enamel. There may be small white spots or extensive brownish discolorations. The mottled enamel is still resistant to decay, but it may be unattractive in appearance.
What is the idea behind the new guidelines?
With the new guidelines, fluoride is kept at the lower end of the scale of the optimal concentration for strengthening teeth against decay. At this end, there is room to add consumption of fluoride from other sources such as foods or toothpaste. In short, it is the best of both worlds.
Contact us today to schedule an appointment to discuss your questions about fluoride. You can learn more by reading the Dear Doctor magazine articles "Fluoride & Fluoridation in Dentistry" and "New Fluoride Recommendations."