My Blog
Posts for tag: orthodontics
By Michael C Scheske, DDS, PC
February 13, 2017
What your family dentist in Union wants you to know
You've probably heard of Invisalign, the virtually invisible orthodontic treatment, but you want to know more about it. What is Invisalign? How long does it take? Will it hurt? These are some of the common questions about Invisalign. Dr. Michael Scheske, your family dentist in Union, MO, wants to share the facts about Invisalign and what it can do for you.
When you think of orthodontic treatment, it's easy to envision ugly metal brackets and wires, but think again! Orthodontic treatment has become state-of-the-art, thanks to Invisalign. Consider these important advantages:
Invisalign is comfortable, because the appliances, called aligners, are smooth plastic, with no sharp metal parts.
Invisalign is discreet, because the aligners are clear, making them virtually invisible to those around you.
Invisalign is convenient, because you can remove the aligners to brush and floss your teeth normally.
Invisalign is patient-friendly, because you can remove the aligners to eat the foods you love, without food catching in your braces.
Invisalign aligners may look delicate and beautiful, but they are strong enough to correct the same tooth alignment and bite issues as conventional orthodontic treatment. Invisalign can correct:
Rotated or badly aligned teeth
Gaps between teeth
Overlapping teeth
Overbite and underbite
Crossbite and open bite
Dr. Scheske will provide your first set of aligners, which you wear for two weeks. You switch to another set of aligners, which you wear for another two weeks. At two week intervals, you will receive a new set of aligners as your teeth gradually move into correct position. Invisalign treatment is completed at nine to fifteen months. Imagine comfortably straightening your teeth for a few months, instead of a few years!
Don't settle for an uneven, crooked smile or a bad bite when you can have a perfect smile with just one phone call. To find out more about Invisalign, call Dr. Scheske, your family dentist in Union, MO. Get started on your perfect smile by calling today!
By Michael C Scheske, DDS, PC
February 09, 2015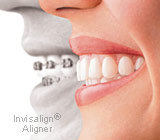 If you are insecure about your misaligned crooked teeth, then you may be a perfect candidate for clear orthodontic aligners. This system is an alternative to traditional braces that uses a sequence of individual, clear, removable "trays" that fit over your teeth to gradually straighten them. Each tray is completely clear and covers all the teeth thus making it virtually invisible. Each tray is designed to slightly move the teeth until the teeth are in proper alignment. Typically, each tray must be worn for 20 hours a day for 2 weeks before progressing to the next tray in the sequence with each tray moving you closer towards your goal — perfectly aligned teeth.
However, clear orthodontic aligners are not for everyone. If you are interested and wonder if they can benefit you, contact us so that we can schedule an appointment for a thorough evaluation to assess your specific situation. Below, we have briefly outlined some situations when they will and will not work.
Clear orthodontic aligners work if...
You have mild to moderate crowding or spacing issues between teeth
Back teeth fit together properly
They may not be the right choice if...
You have moderate to severe crowding or spacing issues between teeth
When your bite does not align properly (for example, if you have a large over-, under-, or cross-bite)
When your teeth are "rotated" way out of position; such misaligned teeth will require special or complex techniques to rotate them back into position, or to pull them down into place or to fill the space left after pulling a tooth to resolve excessive crowding of teeth
Want to learn more?
Contact us today to discuss your questions or to schedule an appointment. You can also learn more about this topic by reading the article "Clear Orthodontic Aligners."
By Michael C Scheske, DDS, PC
December 30, 2013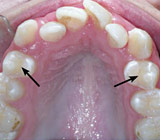 Not only can orthodontic treatment transform your smile, it can also restore function to your teeth and mouth that will improve both your oral and general health. But any treatment to straighten misaligned teeth requires careful planning. Depending on the exact nature of your misalignment, there may be some additional steps we would need to perform before undertaking orthodontic treatment.
One common need is space to help relieve overcrowding. To make room for tooth movement, often a tooth may need to be removed if the crowding is excessive. The most likely candidates are the first bicuspids, teeth located between the cuspids (or eyeteeth, located in line under the eyes) and the second premolar located in front of the molar teeth. The removal of these first premolars won't have a great effect on future form or function. Under the gentle pressure exerted by the braces, neighboring teeth will move and fill in the open space. Today's orthodontist goes to great lengths to avoid removing any teeth; in severe overcrowding, though, this is an acceptable way to create needed space.
Damaged teeth in need of replacement may also be removed before orthodontics and certainly more desirable — if any tooth needed to be removed, you would always choose a damaged tooth first. The object is to first preserve the underlying bone and close the space to avoid replacing that tooth or, if not possible, maintain the correct amount of space for any future restoration.
As living tissue, bone constantly reshapes in response to its environment. If it no longer senses a tooth (or the forces exerted by a tooth when biting or chewing), the bone will slowly disappear through a process known as bone resorption. To counteract this process, we may graft material (like processed donor bone) into the socket to encourage and maintain bone growth. This creates a platform for future tooth replacements like implants or bridgework after orthodontic treatment.
After orthodontics, it may also be necessary to install some type of "placeholder" (temporary bridgework or partial denture) in the area of missing teeth. Keeping the teeth from migrating into the space will improve the chances that any permanent restoration like an implant or fixed bridgework will look natural — as if it belonged there the entire time.
A complete dental examination will indicate whether any teeth need to be removed before undergoing orthodontic treatment. If necessary, taking this strategic step will help ensure we achieve the best result — a winning smile.
If you would like more information on tooth removal and other options to enhance orthodontics, please contact us or schedule an appointment for a consultation. You can also learn more about this topic by reading the Dear Doctor magazine article "Tooth Removal for Orthodontic Reasons."