My Blog
Posts for tag: root canal treatment
By Michael C Scheske, DDS, PC
May 25, 2017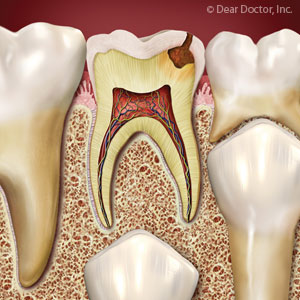 Primary (baby) teeth might not last long, but their impact can last a lifetime. Their first set of teeth not only allows young children to eat solid foods, but also guide permanent teeth to form and erupt in the proper position.
Unfortunately, primary teeth aren't immune to tooth decay. If the decay is extensive, the tooth may not last as long as it should. Its absence will increase the chances the permanent teeth won't come in correctly, which could create a poor bite (malocclusion) that's costly to correct.
If a primary tooth is already missing, we can try to prevent a malocclusion by installing a "space appliance." This keeps nearby teeth from drifting into the empty space intended for the permanent tooth. The best approach, though, is to try to save a primary tooth from premature loss.
We can often do this in much the same way as we would with a permanent tooth — by removing decayed material and filling the prepared space. We can also perform preventive applications like topical fluoride or sealants that strengthen or protect the tooth.
It becomes more complicated, though, if the pulp, the interior of the tooth, becomes decayed. The preferred treatment for this in a permanent adult tooth is a root canal treatment. But with a primary tooth we must also consider the permanent tooth forming below it in the jaw and its proximity to the primary tooth. We need to adapt our treatment for the least likely damage to the permanent tooth.
For example, it may be best to remove as much decayed structure as possible without entering the pulp and then apply an antibacterial agent to the area, a procedure known as an indirect pulp treatment. We might also remove only parts of the pulp, if we determine the rest of the pulp tissue appears healthy. We would then dress the wound and seal the tooth from further infection.
Whatever procedure we use will depend on the extent of decay. As we said before, our number one concern is the permanent tooth beneath the primary. By focusing on the health of both we can help make sure the permanent one comes in the right way.
If you would like more information on caring for children's primary teeth, please contact us or schedule an appointment for a consultation. You can also learn more about this topic by reading the Dear Doctor magazine article "Root Canal Treatment for Children's Teeth."
By Michael C Scheske, DDS, PC
April 02, 2017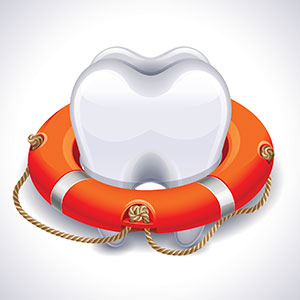 It's no exaggeration — dental implants have revolutionized teeth replacement. Life-like and durable, implants are the closest thing in design and function to a natural tooth.
In fact, there's only one thing better than a dental implant — a real tooth. For function and long-term oral health, you can't beat what nature provided you in the first place. So before you finally decide to remove and replace that problem tooth, consider these other options for saving it.
Root canal therapy. Tooth decay can do more than cause cavities — it can work its way into the pulp, the innermost layer of a tooth. If it isn't stopped here, it could continue on to the roots and put the tooth in real danger of loss. A root canal treatment removes the infection from the pulp and root canals and replaces the space with a filling. A life-like crown is then bonded or cemented to the tooth to protect it from further infection.
Aggressive treatment for periodontal (gum) disease. This other dental disease is just as damaging as tooth decay. Caused by bacterial plaque, the gums around a tooth become infected and inflamed. As it moves deeper into the tissues and inflammation progresses, it can affect supporting bone causing it to dissolve. To prevent this potential bone loss, it's important to seek out and remove hidden pockets of plaque. This may require surgery to access the roots for plaque and calculus (tartar) removal, but it's well worth it to preserve the tooth.
Bone grafting. As mentioned before, gum disease can ultimately lead to bone loss. But even when bone loss has occurred (a substantial threat to a tooth's survival) we may be able to reverse it with bone grafting techniques. During this procedure we insert grafting material at the loss site along with substances that stimulate growth. The graft serves as a scaffold for new bone cells to grow upon. Over time the bone volume increases and helps stabilize a weak tooth.
Of course, your best option is to avoid dental disease in the first place with daily brushing and flossing and regular dental visits for cleanings and checkups. That and treating dental disease in its earliest stages will help ensure you'll have the best teeth possible — your own.
If you would like more information on options for treating diseased teeth, please contact us or schedule an appointment for a consultation. You can also learn more about this topic by reading the Dear Doctor magazine article "Save a Tooth or Get an Implant?"
By Michael C Scheske, DDS, PC
April 28, 2016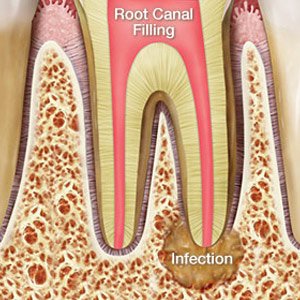 Most first-time root canal treatments achieve their purpose in saving an internally decayed tooth and extending its life to match those of the patient's non-decayed teeth. Occasionally, though, a root canal-treated tooth may become re-infected by decay.
There are a number of reasons for this: the permanent crown meant to add further protection against decay may have been delayed, giving bacteria an opening to re-infect the tooth; it's also possible the original seal for the pulp chamber and root canals after filling wasn't sufficient to prevent bacterial contamination.
There's also another reason that's very difficult to foresee — the presence of narrow, curved root canals in the tooth that can pose complications during the procedure. Some of these known as accessory or lateral canals branch off the main canals to create a complex network that's difficult to detect during the initial procedure. If they're not cleaned out and filled during the procedure any tissue trapped in them can remain infected and ultimately die. If these canals also open into the periodontal membrane at the attachment between the teeth and bone, the infection can spread there and become a periodontal (gum) infection that can trigger future tooth loss.
Fortunately, a reoccurrence of infection isn't necessarily a death sentence for a tooth. A second root canal treatment can correct any problems encountered after the first treatment, especially complications from accessory canals. It may, though, require the advanced skills of an endodontist, a dental specialist in root canal problems. Endodontists use microscopic equipment to detect these smaller accessory canals, and then employ specialized techniques to fill and seal them.
If you encounter pain or other signs of re-infection for a tooth previously treated with a root canal procedure, contact us as soon as possible. The sooner we can examine and diagnose the problem, the better your tooth's chances of survival by undergoing a second root canal treatment.
If you would like more information on tooth preservation through root canal treatment, please contact us or schedule an appointment for a consultation. You can also learn more about this topic by reading the Dear Doctor magazine article "Accessory Canals."