My Blog
Posts for tag: sensitive teeth
By Michael C Scheske, DDS, PC
October 06, 2019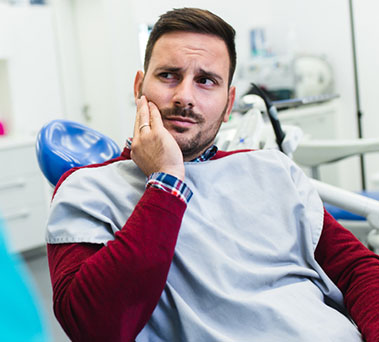 If you wince in pain while eating or drinking something hot or cold, you're not alone: tooth sensitivity afflicts one in three Americans. To understand what's possibly going on, let's look first at tooth anatomy.
Teeth are mainly composed of three layers: an outer protective enamel that covers the upper crown, a middle layer called dentin and an inner pulp. The dentin is composed of small tubules that transmit outer temperature and pressure sensations to nerves in the pulp.
The enamel serves as a "muffler," damping sensations to protect the nerves from overload. In the root area, the gums and a thin material called cementum covering the roots also help muffle sensation.
But sometimes teeth can lose this muffling effect and the nerves encounter the full brunt of the sensations. The most common reason is gum recession, usually caused by periodontal (gum) disease. The gums have shrunk back or "receded," and after a short while the cementum covering will also be lost, exposing the dentin in the root area.
Another problem is enamel erosion caused by mouth acid. Chronic high acidity, often caused by bacterial growth or acidic foods and beverages, can dissolve the enamel's mineral content, causing decay and exposure as well of the underlying dentin.
To avoid future tooth sensitivity, it pays to prevent these two dental problems. The most important thing you can do is practice daily brushing and flossing to reduce bacterial plaque and see your dentist regularly for dental cleanings and checkups.
But if you're already experiencing symptoms, you'll first need an accurate diagnosis of the cause. If it's related to gum disease, immediate treatment could help stop or even reverse any gum recession. To address enamel erosion, your dentist may be able to protect and strengthen your teeth with sealants and topical fluoride.
There are also things you and your dentist can do to reduce your symptoms. One is for you to use hygiene products with fluoride, which can take the edge off of sensitivity, or potassium, which helps reduce nerve activity. Your dentist can further reduce nerve sensitivity by blocking the tubules with sealants and bonding agents.
Tooth sensitivity is an irritating problem in itself; more importantly, though, it's often a warning of something else seriously wrong that needs attention. If you're feeling a little sensitive in the teeth, see your dentist as soon as possible.
If you would like more information on tooth sensitivity, please contact us or schedule an appointment for a consultation. You can also learn more about this topic by reading the Dear Doctor magazine article "Treatment of Tooth Sensitivity: Understanding Your Options."
By Michael C Scheske, DDS, PC
August 14, 2013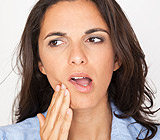 Nothing ruins a thirst-quenching cold beverage or a dish of your favorite ice cream like a sudden pang of tooth sensitivity. If you're experiencing this problem — and especially if there are other triggers, like biting down — we encourage you to make an appointment. It could be something harmless and temporary, but it's always prudent to check. At the very least, you'll feel better once the underlying problem is identified and treated if necessary.
Here are some common sources of tooth sensitivity:
Enamel erosion — typically caused by acidic beverages/food, regurgitation of stomach acids (due to gastroesophageal reflux disease [GERD] or the eating disorder bulimia), or improper brushing
Tooth decay — a sugary diet and poor dental hygiene may be contributing factors
Tooth fracture or chipping due to tooth grinding (bruxism) or other trauma
Gum recession due to age, improper tooth brushing, or gum disease
Filling that needs repair or replacement
Residual effects of recent dental work
Some things you can try at home to minimize sensitivity include:
Ease up on the toothbrush; a light touch is all that's needed to dislodge daily plaque build-up
Try using fluoride-containing toothpaste like an ointment over the affected area (fluoride decreases fluid exchange from the oral environment to the nerve inside the tooth)
Take a non-steroidal anti-inflammatory such as ibuprofen (use judiciously and according to the package insert guidelines)
Discomfort related to recent dental work should resolve on its own; give it several weeks. If you're feeling discomfort for another reason, even if the sensitivity subsides, the underlying cause may still require attention.
If you would like more information about tooth sensitivity, please contact us or schedule an appointment for a consultation. You can also learn more about this topic by reading the Dear Doctor magazine article "Sensitive Teeth."
By Michael C Scheske, DDS, PC
September 26, 2012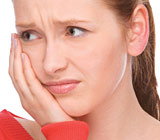 It is not uncommon to have one or more teeth that are particularly sensitive to heat, cold, or pressure. If you have such a tooth, you probably want to know what caused it and what you can do about it. Here are some frequently asked questions, and their answers.
What causes teeth to become sensitive?
The most common cause of sensitivity is exposure of the tooth's dentin, a layer of the tooth's structure that is just below the outer protective layer (the enamel).
The dentin is sensitive but the enamel layer is not. Why?
The enamel is composed of minerals that are hard and protective. It is not living tissue and has no nerve supply. The dentin layer underneath is bone-like living tissue that does contain nerve fibers. It is protected by enamel above the gum line and by gum tissue in the area of the tooth's root, below the gum line. If the tooth's protective covering is reduced, the nerve fibers in that section of the dentin are exposed to changes in temperature and pressure, which they conduct to the inner pulp layer (nerve) of the tooth. The sensations that reach the tooth's interior pulp layer cause pain.
What causes exposure of the dentin layer in teeth?
Often the dentin is exposed by receding gums, causing areas of the tooth that are normally below the gum surface to be uncovered.
What makes gums recede?
One cause of receding gums is excessive, rough brushing techniques. This is particularly common in individuals who have a family history of thin gum tissues. Removing the film of bacteria called plaque requires only gentle action with a soft brush. This is one reason that we stress the value of learning proper and effective brushing techniques. Gum recession becomes worse after the uncovered dentin of the tooth's root is exposed to erosion from sweet and acidic foods and beverages, such as fruit juices.
Doesn't tooth sensitivity indicate decay?
Decay can also cause tooth sensitivity. As decay destroys a tooth's structure, it eventually invades the inner pulp of the tooth, causing greater and greater pain.
How can you prevent or reduce tooth sensitivity?
As we mentioned above, learn proper brushing techniques; we would be happy to demonstrate them. Use a toothpaste that contains fluoride, which increases the strength of the tooth's protective coating. In more serious cases, we can apply a fluoride varnish or a filling material as a barrier to cover sensitive areas. If you experience long-term tooth sensitivity, make an appointment for an assessment and diagnosis so that we can determine the cause and proper treatment.
Contact us today to schedule an appointment to discuss your questions about sensitive teeth. You can also read the Dear Doctor magazine article "Sensitive Teeth."