My Blog
Posts for tag: sports dentistry
By Michael C Scheske, DDS, PC
February 27, 2013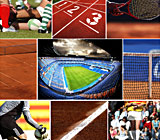 No one participates in sports or recreational activities with the goal of oral or facial injury. However, the facts reveal two things: sports injuries are the number one cause, impacting thousands of adults and children annually and many of them can be prevented or at least minimized with education and the use of a properly fitted professional mouthguard.
In addition to the obvious negative of the physical injury to the mouth and face, oral-facial injuries can also be both emotional and psychological. And while these injuries can occur due to a multitude of reasons, a recent study found that approximately 25% occur while playing sports. The following poignant facts should raise your awareness of dental injuries.
Did you know…?
On average, 22,000 dental injuries occur annually in children under the age of 18.
Outdoor activities and products are associated with the largest number of dental injuries to baby (primary) teeth in children aged 7 to 12 with 50% of these incidents related to bicycle accidents.
Outdoor activities and products are also associated with the largest number of dental injuries to permanent teeth in adolescents aged 13 to 17.
Of all sports, baseball and basketball consistently produce the largest number of dental injuries each year.
Over 80% of all dental injuries involve the upper front teeth.
Age, gender, condition and position of the teeth, as well as the type of sport being played are all key risk factors associated with the likelihood of experiencing a sports injury.
Studies show that teenage boys involved in contact sports, collision sports, and high-velocity non-contact sports are at the highest risks for dental injuries.
Young girls are starting to participate in many of these same sports, and thus their risks for injuries are climbing.
Home furniture is the main culprit in over 50% of the dental injuries in children under the age of 7.
We encourage you to take a moment to assess your own as well as your family's risk of dental injury and to think about how you can treat and prevent them. To learn more, read the Dear Doctor article, "An Introduction To Sports Injuries & Dentistry." Or, feel free to contact us to discuss your questions or to schedule a consultation.
By Michael C Scheske, DDS, PC
February 15, 2013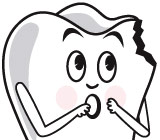 Nearly every parent and caregiver has experienced that almost instantaneous sick feeling when they see that their child has been injured, especially when it is an injury to the mouth and teeth. For some, it is just a bloody lip; however, if the accident chipped a tooth, then you may have a completely different situation on your hands. If the nerve of the tooth has not been damaged, you needn't worry too much — a composite (plastic) tooth-colored restoration that is actually bonded to the tooth is an ideal material for repairing most broken or chipped teeth. See us as soon as possible to assess the extent of injury, so that proper and appropriate action can be taken.
An additional reason why bonding with composite resin may be the ideal choice for repairing a child's chipped tooth is that it can be custom created in virtually any shade so that it perfectly matches the damaged tooth and the surrounding teeth. It is also far less expensive than a crown, an important factor to consider when repairing a primary (baby) tooth that will eventually fall out to make room for a permanent tooth. If the injury is to a permanent tooth, a composite resin still may be ideal to use as a restoration until your child or teenager has stopped growing or playing contact sports. This is because your teenager may be too young for a more permanent restoration such as a crown or porcelain veneer.
An important, proactive step you can take to be prepared for the next time your child has a dental injury is to download Dear Doctor's Field-side Pocket Guide for Dental Injuries. This handy, quick reference guide is a must have for athletes, parents, caregivers, teachers, coaches or anyone who is often in an environment where a mouth injury is likely to occur. Knowing what to do and how quickly you must respond can make the critical difference between saving and losing a tooth.