My Blog
Posts for tag: teeth grinding
By Michael C Scheske, DDS, PC
May 14, 2018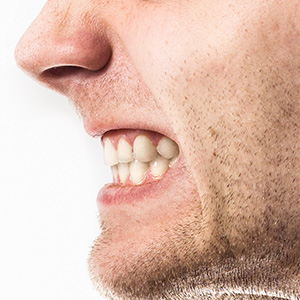 Chronic stress is like a tea kettle on the boil—all that "steam" has to go somewhere. We often do this through behaviors like biting our nails, binging on comfort food—or grinding our teeth. That latter habit, however, could have a detrimental effect on teeth, including excessive enamel wear or even fractures.
Also known as bruxism, teeth grinding is the forceful and often involuntary contacting of teeth that often generates abnormally high chewing forces. While not considered a relatively big problem with young children, it can be if you're an adult. While there could be other causes, chronic stress is often a  prime factor for adults with bruxism.
While teeth grinding can occur during the day when you're awake, it often occurs at night during sleep and may be associated with other sleep disorders like snoring. Although you might not be consciously aware of a grinding episode as it happens, you may notice its effects the next morning, including sore jaws or headaches. Over time, your dentist may begin noticing its effects on your teeth.
So, how can you lessen teeth grinding? For starters, if you're a tobacco user, quit the habit. Many studies indicate tobacco users report twice the incidence of teeth grinding as non-users. Excessive caffeine, alcohol or drug use can also contribute.
People have also found it helpful to address chronic stress through a number of relaxation techniques like meditation, more relaxing bedtime preparation, bio-feedback or therapy to "de-stress." Although there's not a lot of empirical evidence for these techniques' effectiveness, there's much anecdotal data from people who've found stress relief from them.
There's also a dental treatment using an occlusal guard that, while not stopping bruxism, can help prevent dental damage. Usually worn during sleep, the custom-made guard fits over the teeth of one jaw, usually the upper. Its high impact plastic prevents the teeth from making solid contact, thus reducing the biting force. You may also be able to reduce bruxism effects through dental work and orthodontics,
You and your dentist can explore the options to find the right treatment strategy for you. By taking action now, you may avoid much more extensive—and expensive—problems with your teeth down the road.
If you would like more information on teeth grinding and what to do about it, please contact us or schedule an appointment for a consultation. You can also learn more about this topic by reading the Dear Doctor magazine article "Teeth Grinding: Causes and Therapies for a Potentially Troubling Behavior."
By Michael C Scheske, DDS, PC
February 01, 2017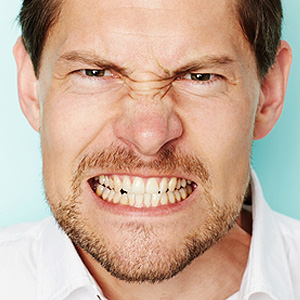 Your teeth naturally wear as you age, but you may be making it worse if you grind your teeth.
Teeth grinding is a behavior that causes the teeth to gnash, grind or clench against each other generating forces greater than those produced from normal biting. These forces often result in tooth wear that cause not only functional problems but result in a more aged appearance. Grinding occurs while a person is awake, but most often episodes occur while asleep at night.
Teeth grinding is quite common in children, but not usually of great concern since most grow out of it. There's even a school of thought that teeth grinding might even help readjust an uneven bite.
Among adults, though, other factors seem to contribute to teeth grinding. Many researchers believe nighttime grinding occurs as a person passes through different sleep phases including deep REM (Rapid Eye Movement) sleep. It may also have a connection with chronic snoring.
Certain medications seem to contribute to teeth grinding, particularly psychoactive drugs like amphetamines. Nicotine falls in this category, which could be why tobacco users report twice the incidence of the habit compared to non-users. Teeth grinding is also connected to another fact of modern life: stress. People who grind their teeth tend to have higher levels of anxiety, hostility or depression.
Because there are multiple triggers, there are many treatment approaches. Whatever course we take, our aim is to eliminate or minimize those factors that contribute to your habit. For example, we can create a custom mouth guard for night wear to prevent the teeth from making solid contact and thus reduce the biting pressure.
Perhaps the most important thing is to control or reduce stress. This is particularly helpful at night to prepare you for restful sleep by changing some of your behaviors. We also encourage investigating other stress therapies like biofeedback, meditation or group therapy.
Whatever the means, bringing teeth grinding under control not only reduces problems now, but could also help prevent abnormal teeth wearing and future health issues down the road.
If you would like more information on causes and treatments for teeth grinding, please contact us or schedule an appointment for a consultation. You can also learn more about this topic by reading the Dear Doctor magazine article "Stress & Tooth Habits."
By Michael C Scheske, DDS, PC
May 13, 2016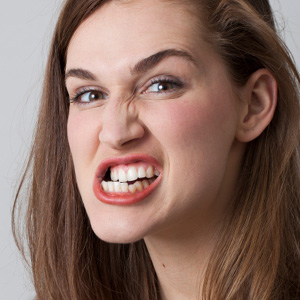 Modern life can be demanding. The body helps us rise to the occasion through responses we collectively call stress.
But while stress can be a good thing, it can also overwhelm us and manifest in some harmful way: bouts of back pain, stomach ulcers or even acne. It could also trigger tooth grinding, often occurring as we sleep. And like other stress relievers, tooth grinding can be detrimental to your health long term.
Teeth-on-teeth contact occurs normally when we eat or speak, or simply as our jaws contact each other with glancing touches hundreds if not thousands of times a day. Such normal contact is beneficial because it stimulates healthy bone growth in the jaw. But if the forces created exceed the normal range as with tooth grinding (up to ten times), it can cause a bevy of problems to the teeth and jaws.
While excessive jaw motion during teeth grinding can cause inflammation and painful spasms in the muscles, the greater danger is to the teeth, which could even fracture from the high amount of force. The more common occurrence, though, is an increased rate of enamel erosion, which causes the tooth to lose vital structure and eventually appear shorter in appearance.
Fortunately, there are ways to reduce teeth grinding or its severity. The first order of business is to treat its effects by reducing its symptoms and ongoing damage. We can recommend some behavior modification techniques to alter the frequency of the habit or a night guard to protect the teeth from the intensity of the habit if you're unable to change the behavior.
A custom-fitted night or occlusal guard, a retainer-like dental appliance made of smooth acrylic plastic is designed so that the lower teeth glide over the guard surface when grinding and can't make solid contact with the upper teeth. This reduces the generated force and helps protect the teeth.
In the long term, though, you should address the root cause — how you're handling daily stress. Treatment by a psychotherapist or counselor, for example, could help you develop ways to channel stress in more productive ways.
However your treatment strategy develops, it's important to address stress and teeth grinding as soon as possible. Controlling it will have long-term benefits for your teeth and smile.
If you would like more information on dealing with stress that causes tooth grinding, please contact us or schedule an appointment for a consultation. You can also learn more about this topic by reading the Dear Doctor magazine article "Stress & Tooth Habits."